Kanye West Rants Again, But Is He On to Something This Time?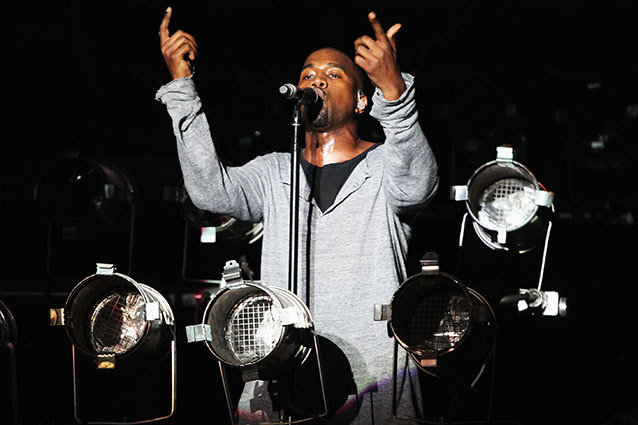 Kanye West is no gold digger. In the midst of his 21-song set at Governor's Ball in New York City on Sunday night, the rapper declared that he could care less about how much cash he rolls in with the upcoming release of his album Yeezus. Kanye West on a rant? Now that's unusual… (Said no one ever). Kanye, you keep us young.
In another one of Kanye's famous rants, he made it clear that Yeezus isn't about reeling in big bucks or nailing a lot of radio play. 
But before you call the rapper crazy, hear him out. 'Ye wants to go back to the days when there was less emphasis on having a vast audience tune in to his tracks. West is in the rap game for the sake of pure art, not for making bank. If the tracks he puts out are enough for his fans to jam out to, then the "New Slaves" performer is satiated.
Or so he claims. Just as he once asserted that he "ain't no motherf**king celebrity" (when he clearly is), we're skeptical now that money really means nothing to Mr. West. 
According to Billboard, West said to Governor's Ball concert-goers:
"With this album we ain't drop no single to radio. We ain't got no NBA campaign, nothing like that. S**t, we ain't even got no cover. We just made some real music. Like, back when I used to make albums and s**t, a couple years ago, we'd go away and work on the album for months or something. We'd always have to hold the album to like August, or September or 'til the perfect moment and s**t. Because it mean that 'I think would sell more if it get more audience and shit.' But honestly, at this point when I listen to radio, that ain't where I want to be no more. Honestly at this point, I could give a f**k about selling a million records as long as I put out an album for the summer that y'all can rock to for all f**kin' summer… At this point I don't really give a f**k about outside opinion."
Dear Kanye, as long as there is no Taylor Swift harmed in the making of this album, we're all ears for Yeezus when it drops June 18th.
Follow Cori on Twitter @gimmegimmeCOR
Follow Hollywood.com on Twitter @Hollywood_com 
More: 
It's Official: Kim Kardashian and Kanye West Are Havng A Girl
Kanye West Debuts Song 'New Slaves' With Giant Projections Of His Face – VIDEO
Kanye West Rants Angrily About 'SNL,' Insists He's Not a Celebrity
---
From Our Partners


Stars Pose Naked for 'Allure' (Celebuzz)


Which Game of Thrones Actor Looks Least Like His Character? (Vulture)