The Kardashians Don't Seem to Know What Christmas Is…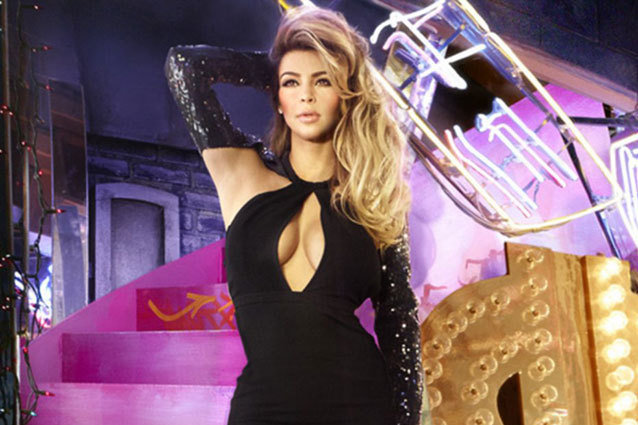 David LaChapelle
It's December, which means the holiday season is officially upon us, bringing with it crowded shopping centers, a constant loop of festive music, and of course, the annual Kardashian Khristmas Kard. After all, everyone knows that the holiday festivities can't begin until we've seen how America's most famous family will be celebrating this year. So, what theme did they choose for 2013? Slick and stylish? Dramatic and glamorous? Joyful and celebratory? How about just plain weird? 
The picture, taken by David LaChappelle (what, you mean you didn't hire a world-famous fashion photographer to shoot your Christmas cards?) features Kim and family posing in dramatic black gowns in some sort of abandoned carnival warehouse covered in pictures of her, piles of old tabloids, and Bruce Jenner in a glass case. We're sure that every element has some sort of symbolism attached to it, from the giant dollar sign next to Kim to the Wheaties box with Bruce's face on it, but we're more concerned with the fact that absolutely nothing in this picture has anything to with the holidays. There's no tree, no ornaments, not even a snowman is present anywhere in the craziness that makes up the background of the photo. So, if there's nothing even remotely holiday-inspired in their Christmas card, what do the Kardashians think Christmas is about?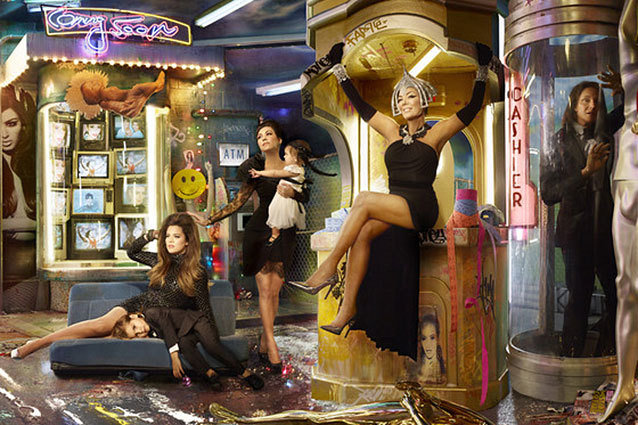 David LaChapelle
Well, like everything else the family does, it seems to be all about Kim, who is not only more prominently featured than everyone else in her family, but also has her picture plastered all over the backdrop. Even the lone Christmas-ish element, the haloed baby hovering above Khloe, is all about Kim, as it's probably meant to be an homage to North West, the pop culture world's newest deity. She's also the only one of her sisters to have their significant other featured in the photo shoot (although only via Kanye'sRolling Stone cover), because Scott and Lamar's presence would clash with the "Kim" theme the family have decided to go with this year. Rob, however, most likely isn't featured because he keeps gifting everyone socks from his sock line for Christmas, and everyone got fed up. 
Despite this, Kris is trying her best to steal some of the attention with the most dramatic pose and elaborate headdress she could find, because to her, Christmas is about gathering her family close so that she can celebrate the empire she has built them. Bruce is being kept separate from everyone else, trapped in a weird glass case like he's part of a museum exhibit, which likely foreshadows that Christmas dinner is going to be very awkward for him this year. Meanwhile, Mason is just wondering where his presents are because he, unlike the rest of his family, understands that Christmas is about giving, rather than an excuse to send everyone you know the outcome of your weird, confusing family photo shoot.
But on the bright side, at least your family won't be the ones sending out the year's most awkward holiday card for a change.