Kardashians Angry Over Unreleased Ford Kidnapping Ad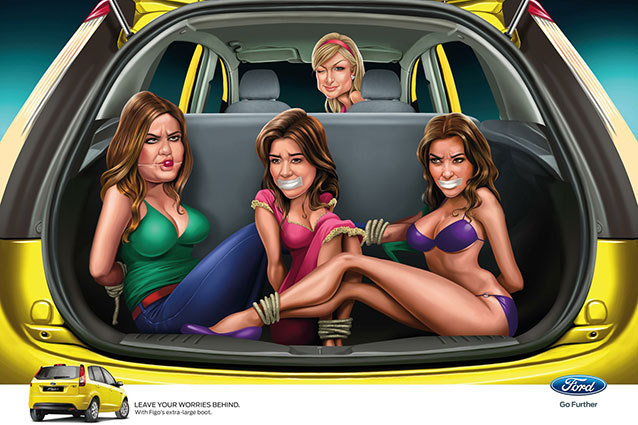 We need to cool it with the Kardashian-bashing, you guys.
Lately, it's gotten so bad that even their most ardent detractors could feel a little sympathy for the reality family America loves to hate. First, the tabloids relentlessly hounded on Kim's pregnancy weight gain. (As Jezebel reported, Star snarked that she'd gained "an insane amount of weight" that had turned her "shapely derriere" into "a sagging, dimply blob.") Now, a leaked mock-up for an Indian Ford ad shows a cartoon drawing of the three Kardashian sisters bound and gagged (but still showing off their voluptuous cleavage) in the back of the Ford Figo, with Paris Hilton winking from the front seat. The tagline reads, "Leave Your Worries Behind."
RELATED: Kim Kardashian and Kanye West Might Name Their Baby North
A Kardashian lawyer told E! News that the women are "exploring all their legal options" after seeing the ad, which was never released but made the Internet rounds nonetheless after appearing on a website roundup of creative advertising. "The 'leave your worries behind' Ford ads are disgusting, vile, and offensive to all women," the family lawyer told E!. "It is unacceptable that Ford would align itself with an ad agency that would so carelessly release these ads." Ford and the ad agency, JWT India, both apologized for the ads and their release.
But the broader issue here is the unchecked vitriol directed toward Khloe, Kourtney, and Kim. Yes, they are reality stars who are famous for "nothing," or, as many say, for "being famous." Yes, they are wealthy. But they're still human — and nobody deserves this kind of treatment.
Hollywood.com correspondent Jennifer Keishin Armstrong is the author of Sexy Feminism, available now, and Mary and Lou and Rhoda and Ted, a history of The Mary Tyler Moore Show, due out in May. For more information visit  JenniferKArmstrong.com.
Follow Jennifer on Twitter @jmkarmstrong 
[Photo Credit: Ford]
---
You Might Also Like:


15 Oscar-Winning Nude Scenes


10 Insane 'Star Wars' Moments You Didn't Notice