Kate Middleton Is Best Dressed: The People's Princess in 6 Economical Outfits
When you're the Princess of England Duchess of Cambridge and are greeted by eagerly awaiting paparazzi and their flashing cameras every time you step into the daylight, you have to always look your best. You also, one would imagine, have designers constantly sending you their latest creations to ensure that your best has their insignia blazoned across your chest. Needless to say, sample size Kate Middleton is never at a loss for clothes to wear.
Middleton's modern take on classic, tailored styles has earned her a top spot on Vanity Fair's 2012 International Best-Dressed. While Middleton's designer duds have certainly aided her in nabbing the title, it is her ability to incorporate brands that us regular people can afford into her wardrobe that truly makes her the People's Princess. Plus, she (gasp) isn't afraid to wear an outfit more than once.
Here are out top six picks for Middleton's commoner-friendly style.
Kate Shops Off the Rack
You can add these items to your own closet without breaking the bank — but there's no guarantee the clothes will make you look like Middleton.
Look 1: Zara Satin Trousers and Stuart Weitzman Corkswoon Wedges

To greet the Olympic torch at Buckingham Palace, Middleton kept her look cool and comfortable with a pair of skinny jeans and a white Olympics polo shirt. Middleton's skintight royal blue pants can be bought at Zara for only $59.99 (the black ones are on sale for $29.99!), and you, too can pick up a pair of her Stuart Weitzman wedges at Nordstrom for $179.99. Okay, it's not exactly a steal, but any day we can find quality heels for under $200 is a good day.
Look 2: Zara Lace Tulip Dress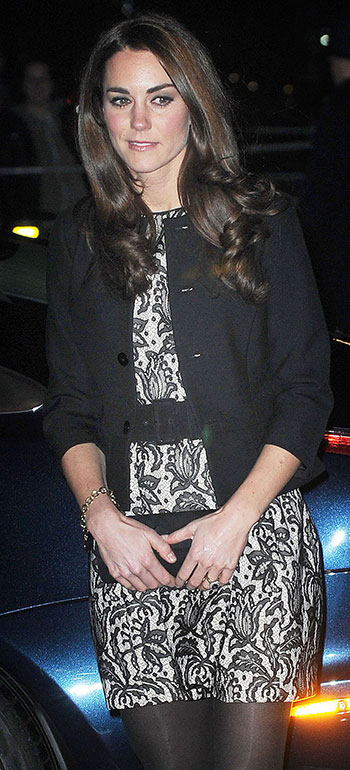 Middleton headed to Zara once again for the sassy black lace dress she wore to the In Support of Young People concert last December. You're in luck again, the dress is currently on sale for $39.99.
Look 3: Hobbs Check Wessex Dress

For a pre-Olympics visit to a local school to launch a program for young athletes, Middleton opted for a prim and pretty A-line checked dress which she accented with a rope belt. The dress can be found at the British department store and label Hobbs for £35.00 (under $60.00).