Kate Middleton's Unborn Child Is Already A Twitter Sensation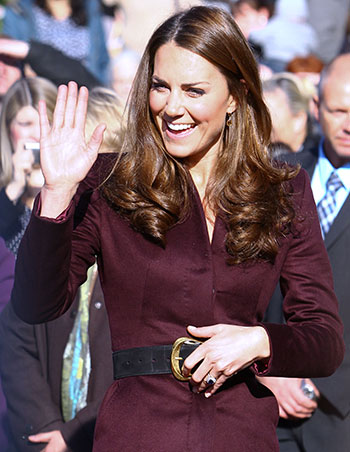 December 3, 2012: a day that will live in Twitter infamy. The day that the comedy gods smiled upon the smart aleck Twitter community when not only the actual Pope became a certified user, but the unborn child of Prince William and Kate Middleton was declared the Royal Baby and quickly became a trending topic. The couple not only created life, but a total pop culture frenzy. 
Within a matter of minutes after the confirmation that "The Duchess is pregnant", the Internet sprung into action with baby name ideas (
Billy Eichner
's suggestion? "Mo'nique!"), royal morning sickness remedies, celebrity play dates ("I hope Royal Baby and
Blue Ivy Carter
become best friends" tweeted
Brooklyn Decker
), and most importantly, a Twitter parody account. Like the Bronx Zoo Cobra and the Dangling Crane before it,
the Royal Fetus
has gone from media fascination to full-blown cultural obsession in record time. 
While the account was technically started back in April, with its maiden tweet "Coming soon, literally…darling ;-)" it finally declared "I EXIST!!!!!" on that fateful Monday morning. Since then, the Royal Fetus has bestowed upon us these gems: 
From what I can tell so far, the internet is just a place where people talk about me. I love it! But wait what's love? #royalbaby
— Royal Fetus (@RoyalFetus) December 3, 2012
I know you're all wondering: the royal uterus smells of gin and baby powder. Also carrots? Kind of. #royalbaby
— Royal Fetus (@RoyalFetus) December 3, 2012
The iPad mini was developed solely so I would be able to Tweet my gestation live from the womb. So, that's why that exists! #royalbaby
— Royal Fetus (@RoyalFetus) December 3, 2012
Between this and @KateMiddletonFTW, this is going to be an entertaining next couple of months. Just make sure if you have a Royal Baby-related joke, you get it up fast. No time is wasted when it comes to news like this. Case in point: 
"KATE MIDDLETON'S UNBORN CHILD SHALL SAVE US FROM THE FISCAL CLIFF!!!" — My Cardboard Sign Today
— Damon Lindelof (@DamonLindelof) December 3, 2012
Kate Middleton becomes the first woman to ever get pregnant.#News
— Danny Zuker (@DannyZuker) December 3, 2012
Of course, not everyone is pleased with the blessed announcement. Especially not other famous children parody accounts like @SurisBurnBook, who has been scowling in 140 characters or less. 
I've tried to prepare for this day, but it is more unbearable than I imagined. Cancel my appointments and bring me pancakes.
— Suri's Burn Book (@surisburnbook) December 3, 2012
I don't want to talk about it. I just want to cry. tmblr.co/ZwxlDxYaNyD1
— Suri's Burn Book (@surisburnbook) December 3, 2012
What's been your favorite Royal Baby-inspired tweet or parody account so far? Hup hup, cheerio, etc.! 
[Photo credit: WENN.com] 
More:
Kate Middleton Is Pregnant, Hospitalized for Morning Sickness, Palace Rep Says