Kate Middleton Suffers From Hyperemesis Gravidarum, Prince William Speaks Out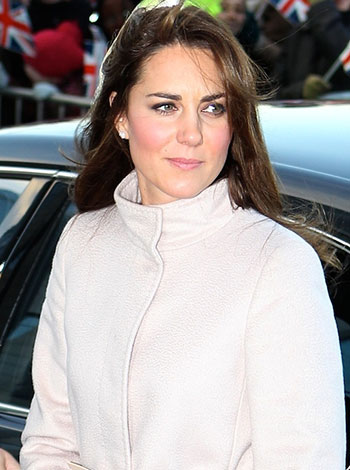 A first-time pregnancy isn't always a walk in the park — so we can only imagine coping with a rare illness associated with pregnancy while the entire world watches is just a jolly holiday. Just three days after the Kate Middleton left the hospital after spending four days being treated for hyperemesis gravidarum, a kind of "severe morning sickness," the Duchess of Cambridge, 30, fell ill again on Sunday. While her 30-year-old husband, Prince William, was able to make a public appearance Saturday night at the Winter Whites Gala in London, on Sunday he had to cancel his plans to attend the British Military Tournament in Earls' Court to stay by his pregnant wife's side.
"It is well known that hyperemesis gravidarum often recurs," a spokesperson for the royal couple told People. "Until further notice, to allow the Duchess a degree of privacy during her pregnancy, we do not intend to offer regular condition checks or advise of routine developments associated with it."
Just last Monday, a royal rep confirmed to Hollywood.com that Middleton was indeed pregnant and in the hospital battling a fit of "severe morning sickness." Her condition, better known as "HG," is characterized by severe nausea, vomiting, weight loss, and electrolyte disturbance, according to the American Pregnancy Association. The American Journal of Perinatology reports that hyperemesis gravidarum or "pernicious vomiting of pregnancy" affects somewhere between 0.3% and 2% of pregnant women."
"I don't know why they call it morning sickness — they should call it all day and all night sickness," Prince William reportedly told Centrepoint chairman Michael O'Higgins, according to Us magazine. "[Recovery is] a long old process but she is getting there. She feels like it is going to go on forever."
Follow Lindsey on Twitter @LDiMat.
[Photo Credit: WENN]
More:
Kate Middleton Pregnant, Hospitalized for Morning Sickness, Says Palace Rep
Kate Middleton Heads Home from the Hospital for a 'Period of Rest'
Which Pregnant Kate Middleton 'Royal Pain' Pun is the Best (and Worst)?

Kim Kardashians Best Bikini Moments (PHOTOS)