Katherine Heigl: 'I'd Like To Adopt Again'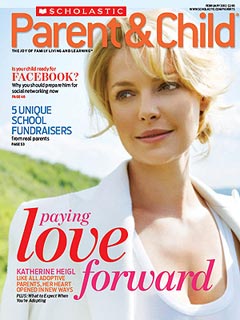 Adoption has become a pretty popular thing in the celebrity world (I mean, look at Angelina Jolie and Brad Pitt's ever-growing collection of kids). It's admirable, life-fulfilling, and a way to give a child a new, loving home. And the list of celeb adoptions only continues to grow. Even though Katherine Heigl recently blogged about being a failed mother, the actress recently confessed that she's seriously thinking about adopting another child.
In the February issue of Scholastic Parent & Child, Heigl opens up about her plans for the future, telling the magazine, "We have talked about having biological children as well, but we decided to adopt first. I'd like to adopt again." I guess that's not too surprising since adoption has always been a big priority for the star. In fact, she even started thinking about it well before she was ever married to her husband, Josh Kelley. Heigl admits, "Josh and I started talking about it before we were even engaged," and now since they're so happy with their three-year-old daughter, Naleigh, they want to expand their family even more.
It's definitely exciting news, although I doubt it's going to really help her with that whole family vs. career balancing act she's been trying to figure out. I guess this will just give her more to blog about.
Click on the picture above for more photos of Katherine Heigl.
Source: Scholastic, People