Kathie Lee Gifford Asks Martin Short About His Dead Wife — VIDEO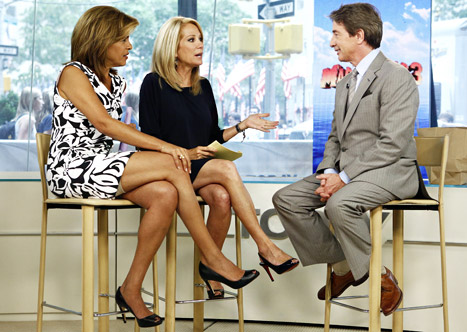 Talk about a journalist's worst nightmare: this morning, Kathie Lee Gifford of the 857th hour of The Today Show had what we (in the biz!) would call a little bit of a "woopsie" when she failed to know–and the show's researchers failed to mention–that guest Martin Short's wife had died two years prior. Um, uh-oh!
Short was on the show to promote his work in the upcoming Madagascar 3. After the discussion turned to his children, Gifford went on to praise the marriage of Short and his late wife, Nancy Goldman, who passed from ovarian cancer in August of 2010.
"And he and Nancy have one of the greatest marriage of anybody in show business. How many years now for you guys?" Gifford asked. Short responded with a "We…uh…married 36 years" before Gifford asked "But you are still, like, in love?" "Madly in love, madly in love," Short replied. The actor/comedian took the moment in stride. After the segment, Gifford apologized on screen. Check out the whole segment below (the gaffe occurs at the 3:30 mark).
Follow Alicia on Twitter @alicialutes
[Image via Getty]
MORE:
Ben Stiller and Chris Rock Destroy Europe in 'Madagascar 3′ Trailer
Martin Short To Join 'How I Met Your Mother'