EXCLUSIVE: Katy Mixon on Tonight's 'Mike & Molly'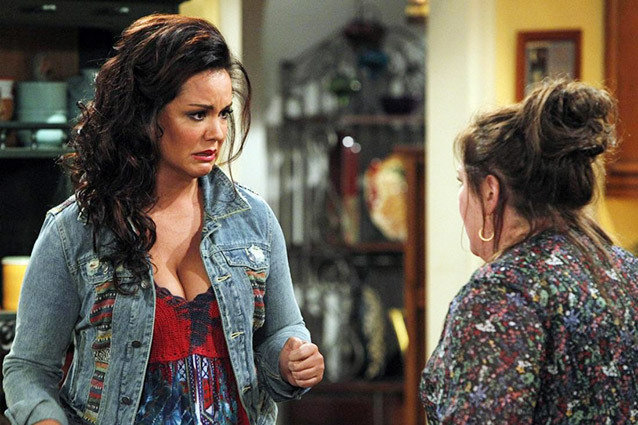 CBS Broadcasting, Inc.
Katy Mixon, who stars as Molly's sister Victoria on Mike & Molly, gives us the inside scoop of tonight's episode 'Sex and Death,' which airs at 9:30PM ET on CBS. Also: what it's like to get inside a coffin. Fun conversation with a fellow former Florida girl. 
What can you tell us about this episode "Sex and Death?" How outlandish does it get?
It gets crazy outlandish, there are dead bodies, a casket, a mortuary, a novel being written. It deals with Victoria and Molly which is adventure bound to happen. That is the short end of it.
Is Victoria excited to have Molly visit her at the funeral parlor? 
Oh my goodness, of course. Victoria loves Molly's approval, she wouldn't want to admit that to Molly but she does. The story opens up with Molly trying to find herself but she has to draw upon things in her own life and what better way to do it then go visit Victoria at a mortuary. Where she does makeup on dead people!
How do you feel about Molly's career change? Does Victoria support it?
Absolutely, she is all about it. You know, that's how Victoria lives her life. If you don't like something then don't do it. That's how Victoria feels. So she is all about Molly finding her way and finding out what she wants to do because Victoria never wants to be stuck in something.
How is working on the set of Mike & Molly? 
I can't even put into words how blessed I am. I get to do what I want to do and make a career out of and be surrounded by incredible souls. I am so incredibly blessed. We make great comedy and we're a part of this incredible team. We are an absolute family.
Is there a funny story that comes to mind that you can share with us?
There are so many! We had to deal with this episode that had to deal with caskets. So we had to get in the caskets! So we just jumped in and it was SO creepy and crazy, we're dealing with dead bodies and it's so funny and awesome!
Do the caskets actually close on you because I would get so claustrophobic!
They did not, Josie. Fortunately they did not! We had to get it in 5 times, so I can now say I've been there, done that!