Katy Perry and Britney Spears' Nude Bodysuits: Who Wore It Best? PICS
Move aside, fashion experts: Hollywood.com is here to tell you, with definitive proof, that the biggest trend of summer 2012 isn't oversized hats or '20s era cocktail attire: It's sheer, bedazzled, nude body suits. (Practical for everyday use!) Katy Perry rocked the nearly naked look at the MuchMusic Video Awards 2012 on Sunday and Jennifer Lopez donned a sparkly suit at the 2011 American Music Awards. Of course, Perry and Lopez aren't the first to forgo prude in favor of nude: Britney Spears was showing off her body in a nude suit back when she was still "Toxic," and starlets like Lady Gaga, Nicki Manaj, and Jennifer Love Hewitt have been trading clothing for see-through bodysuits ever since.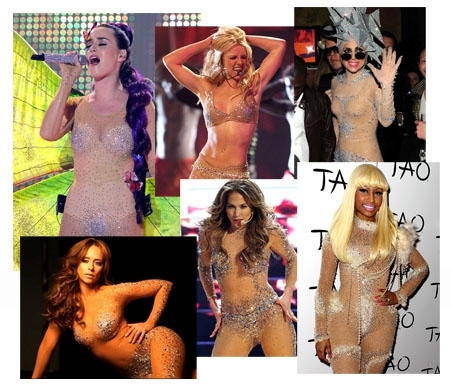 Bear it in mind, fashionistas: In order to keep up with the stars this summer, you'll be wanting a nude, sparkly bodysuit of your own. Who cares what HR thinks?! So, who do you think looks the best while she's least-dressed: Katy Perry, Lopez, Spears, Lady Gaga, Nicki Manaj, or Jennifer Love Hewitt?
More:
Katy Perry's Life Is A Fairy Tale In Her 'Wide Awake' – VIDEO
Demi Lovato Goes Pink: Who Does The Hottest Pink Hair Best?