Katy Perry and John Mayer: Say it Ain't So!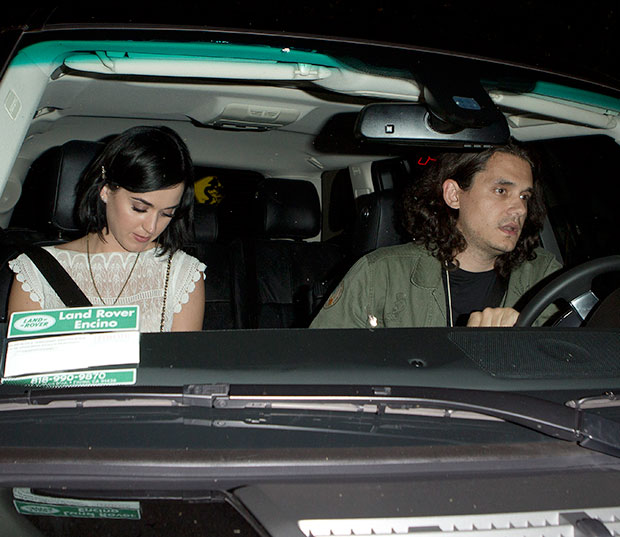 After much are-they-aren't-they speculation, a photo of Katy Perry and John Mayer leaving L.A.'s Chateau Marmont on Wednesday has finally hit the Internet. With no canoodling caught on film (yet) and no statement from Perry and Mayer's reps, we can't confirm that the two are officially an item — but it looks pretty dang close. Just close enough to make us nervous…
If ex-husband Russell Brand is any indication, Perry has a penchant for guys who are a bit, let's say, edgy. Unfortunately, bad things often happen to girls who date bad boys — heartbreak, for one. And yet, here Perry is, on to bad boy numero dos. Notorious ladies man Mayer doesn't seem like the ideal choice of boyfriend for someone healing from a divorce.  
We are confident that in some dusty, repressed corner of her mind, Perry knows this. Heck, her songs are filled with girl power mantras and I-am-woman-hear-me-roar refrains. This is our plea: Perry needs to take her own advice before it's too late!
"Hot N Cold"
Perry's second single is all about finding the moxie to leave a game-playing dude and about getting out of a relationship that's filled with more drama than an episode of The Hills. "I should know / that you're no good for me," Perry sings. Yeah, you should. 
"Thinking of You"
You know how they say that those who do not remember the past are doomed to repeat it? Yeah, this is kind of like that. "Now the lesson's learned / I touched it, I was burned," Perry sings. I don't know about you, but when I get burned I back away from the flame (even thought it's hot).  
"Firework"
"Firework" is Perry's call to arms of all the disenfranchised little people of the world. "You is kind. You is smart. You is important," she says. Also, "You gotta ignite the light and let is shine / just own the night like the 4th of July." Here, here! A woman with that much confidence knows better than to get involved with a guitar-playing Don Juan. 
"Wide Awake"
We all know that "Wide Awake" is Perry's most direct response to her divorce from Brand. It's about how she has risen from the rubble of her marriage as a stronger, wiser, and more in control of her life than ever before. Perry sings, "I wish I knew then / what I know now / I wouldn't dive in / wouldn't bow down." She knows a thing or two now, let's hope she's smart enough to notice warning signs should they rear their ugly, heart-breaking heads.
Follow Abbey Stone on Twitter @abbeystone
[Photo Credit: SPW/Splash News]
More:
Katy Perry, Rihanna, and Frank Ocean Storm the 2012 VMA Nominations
Katy Perry's Bikini Bottom Problems: Three Embarrassing PICS