Katy Perry's New Rocker Boyfriend: 5 Things to Know About Robert Ackroyd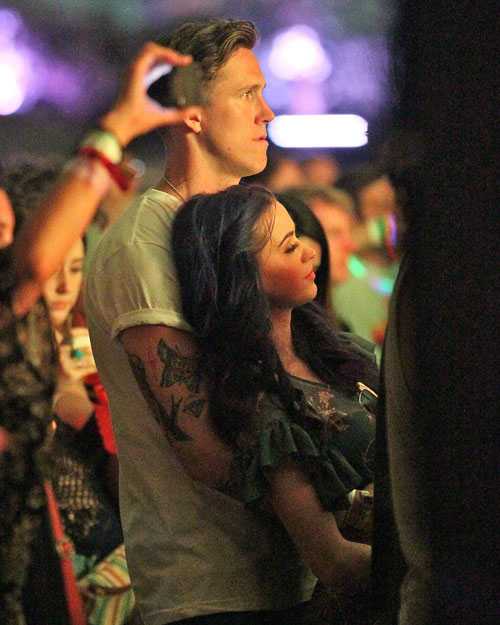 Katy Perry kissed a boy and she liked it. The recently divorced pop star set the internet ablaze after she was spotted cozying up to Florence + the Machine guitarist Robert Ackroyd at the Coachella Valley Music and Arts Festival in Indio, Calif. on April 22, causing many people to speculate that she's found a new beau. The 27-year-old singer was first romantically linked to model Baptiste Giabiconi, a 22-year-old French model — but now it appears that Perry's taste in men has shifted.
While Ackroyd hasn't been very high up on the public's radar — at least, until recently — that's all going to change quickly now that he's dating one of the biggest stars in music history. From now on, everyone is going to know his name, so it's time to starting learning a little more about this musical hunk. Here are a few interesting facts and details to help get you better acquainted with Perry's new man.
1. Ackroyd is a guitarist and backing vocalist for the English indie-pop band Florence + the Machine.
2. He has his very own Twitter account: @Ackersboy. As of 2:45 p.m. ET on April 23, he has 3,000 followers — but something tells us that Ackroyd's numbers are about to rapidly increase after today.
3. He revealed in an interview with Roland UK that as a kid, he idolized Slash and believes Bruce Springsteen is one of the best guitarists in the world.
4. At the 2011 Grammy Awards, Ackroyd's band was nominated for Best New Artist, along with winning Best Solo Artist and Best Track at the Shockwaves NME Awards in 2012.
5. And last, but certainly not least, Ackroyd looks very similar to handsome actor Ryan Gosling. Several sites are already referring to him as a Gosling look-alike. Now we'll just have to wait and see if he starts saving lives in NYC or building Perry a pretty white house in the Carolina marshes.
More:
Katy Perry's New Man Baptiste Giabiconi: 5 Things You Never Knew
Why Katy Perry Turned Down a Role in 'The Help'
Katy Perry 3D Trailer: Boobs, Fireworks and… Headgear?