Katy Perry vs. Taylor Swift: Who Would You Rather Have as Your BFF?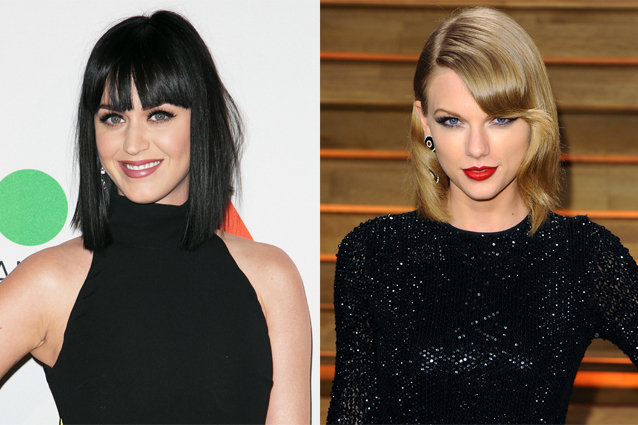 WENN.com/Getty Images 
Taylor Swift and Katy Perry are two of the biggest names in pop music, and rank amongst the most famous women in the world. The duo are idolized by tweens, teens, and their parents, all of whom flock to their concerts and sing gleefully along with each singer's mountain of hits.
Their shared history with John Mayer aside, Swift and Perry also may be among the best liked female celebrities, not just with the public but with their peers. Each singer seems to have as many friends as they do music videos. Heck, they're even friendly with each other, with Perry once stopping by a Swift concert to sing "Hot N Cold." With most of the world wanting to hang out with either Swift or Perry, we ask the question… who would you rather have as a BFF?
Taylor Swift
Swift, 24, seems to collect friends the way that Star Wars fans collect action figures, and isn't afraid to share the experience with her fans. When she took a road trip with Victoria's Secret model Karlie Kloss, the duo posted photos documenting every step of the way on Instagram. She also has been known to post videos from her exploits with Modern Family's Sarah Hyland. "She's just the most down-to-earth person," Hyland told PEOPLE magazine. "She just seems like a really true friend."
Swift can seemingly also turn people around with her bubbly personality. In an interview with a New Zealand magazine, Lorde said that she didn't think that it was good to promote Swift's unattainable perfection to young women. So, Swift sent her roses and soon after the two spent some time hanging out. The singer is unapologetic about her habit of seemingly being friends with every young female celebrity that she meets (which has also included, among others, Ashley Greene, Emma Stone and Lily Aldridge), once told Parade magazine, "I make new friends all the time! I don't think twice about it. If you're trying to filter out the people who, God forbid, know who you are or have heard your music before — I don't see that as a reason to be weirded out and not be friends with someone."
Katy Perry
Perry, 29, is only a little bit older than Swift, but comes across as more mature (and more risqué). The daughter of Christian ministers, Perry doesn't go too wild, but she doesn't mind if her friends do. The singer joked about equally famous bestie Rihanna in an interview, saying, "We all know how much weed you smoke." Her longtime pal, Raising Hope's Shannon Woodward, has been known to post pictures of them having a grand old time goofing around with each other, and once even did a video parody of Swift's "We Are Never Ever Getting Back Together" using Perry's cat in a starring role.
Perry has remained steadfastly loyal to Woodward and DJ Mia Moretti, going back to their days as struggling young women in Los Angeles. For a little more glamour, she's also been known to pal around with Kate Hudson, in part because Perry's real last name is Hudson. Not only is Perry a good friend, she's a good sister. As her Twitter followers know, back in February of this year the singer helped with the delivery of her sister's baby… in her sister's living room. If she's willing to jump in and lend a hand with a home birth, it's hard to imagine that there's any crisis where Perry wouldn't help out a friend.
Vote below and let us know which of the pop princesses you'd rather hang out with.