Home
Celebrities
Kazu Kibuishi on his New 'Harry Potter' Cover Vision — EXCLUSIVE
Kazu Kibuishi on his New 'Harry Potter' Cover Vision — EXCLUSIVE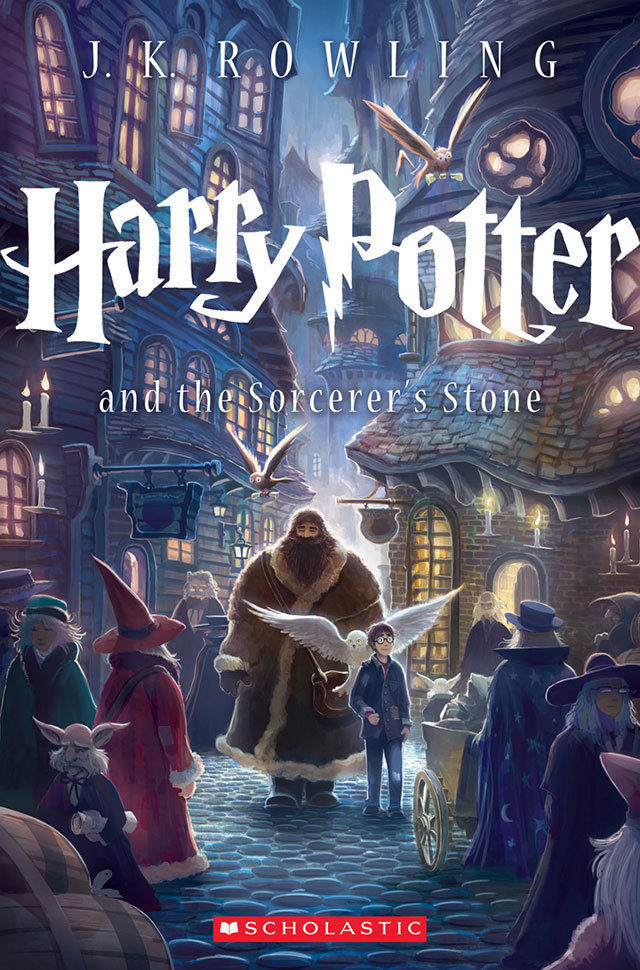 To celebrate the 15th anniversary of Harry Potter settling down in the United States and taking up permanent residence in our hearts, Scholastic has enlisted the help of author/illustrator Kazu Kibuishi to create new covers for the trade paperback editions of the series, which will be rereleased in September. On Wednesday, Kibuishi's design for the first in the series, Harry Potter and the Sorcerer's Stone, was revealed (pictured above). 
Scholastic assures readers that we have not seen the last of artist Mary GrandPré's original illustrations; those will remain on the hardcover and smaller digest paperback versions of the books. Ellie Berger, President of Scholastic Trade Publishing, says in a press release, "The brilliant artist Kazu Kibuishi offers his unique vision of the world of Harry Potter, making each cover an incredible adventure that will transport new readers just discovering Harry Potter for the first time directly into the rich world of J.K. Rowling's imagination."
RELATED: 'Beautiful Creatures,' 'The Mortal Instruments' and More YA Books You Should Know About Before Seeing the Movie
Hollywood.com spoke with Kibuishi on Wednesday about his new vision for J. K. Rowling's indelible story as well as his future plans for Amulet, his graphic novel series for young adults.  
Hollywood.com: Congratulations, first of all!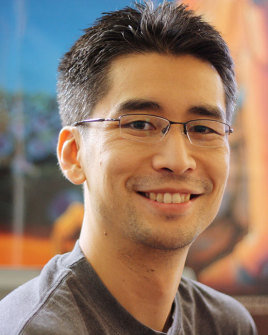 Kazu Kibuishi: Thank you! It's really exciting! 
How did it come about? 
The short story is that David Saylor, the Creative Director who was in charge of Harry Potter back when it was originally released by Scholastic, is also my Creative Director on Amulet. And in passing, he just asked me if I would be interested in trying out for this project. Initially I was hesitant. To be honest, I just didn't — I was kind of curmudgeonly a fan of Harry Potter, thinking, "Well they don't need new covers! The Mary GrandPré covers are fantastic! I love them!" But then I understood what they were looking to do, and that was reintroduce the series, the way we see it in hindsight, to a new generation of readers. When I realized that's what they were looking to do, I got a little bit more excited, and we did submit some samples that they really liked. 
Did you have kind of a mission statement for yourself in terms of what you wanted to bring to it?
I wanted to approach it like an art historian/designer and illustrator. And sort of, I think especially the first cover embodies that approach because, in a way, it is like fan art of the original book, but done through the prism of fan arts for classic literature, such as Great Expectations or A Christmas Carol. And that was really the way I looked at the first book. Actually, it all dawned on me when I looked at a cover for a Perennial Classics reissue of Treasure Island. I looked at that and I thought, "This was new one day. A long time ago, this was what kids would read and get really, really excited about." You know, they would read Treasure Island and want to go on this adventure. And I thought, well that's what happened here with Harry Potter. This is one of our Treasure Islands. And I wanted to approach the covers by looking at the series in that way. 
You mentioned having a great respect for Mary GrandPré's work. Did you talk to her at all before you began? Or have you spoken to her since? 
No, actually. I had no communication with any of the creators. It made it nerve-wracking! I suppose it was liberating in that I was able to just create in a vacuum and do what I thought was right. And to David's credit, he gave me a lot of freedom to do what I wanted; he trusted me a lot. 
RELATED: Staff Picks: The 10 Best Books of 2012 (And 5 That Pretty Much Sucked)
We haven't been given a look inside the new addition yet. Do you know if GrandPré's original illustrations remain? Or will you be doing new ones?
I don't know what they've decided to do about the interiors yet. That is a discussion that's been parked. As far as I know, the illustrations are in tact and will be there.
Well, I feel like if they do keep the original illustrations, your cover compliments them. It's not like it's a completely different vision. 
Right. I did want to incorporate a little bit of the whimsy that I feel GrandPré's illustrations convey. And I tried to thread it through the imagery. And hopefully it'll come across, especially the later covers. 
I'm curious about your vision of Harry and of the other characters. How much of that is how you pictured him while you were reading, and how much of it came from GrandPré's illustrations or the movies? 
Huh. Good question! I didn't really think about that! I feel that Harry Potter is, himself, he is… all of us. So, in that way, he is such an iconic character, I think we all feel like we know what he should at least feel like when he is illustrated, and I didn't really give it a second thought. I really didn't think about it too much. I just drew him and I said, "Well, that's Harry." I really came to it in that way — but it's a good question! Because we have Daniel Radcliffe and we have all these iterations  of illustrated Harry Potter. It just came naturally. I think we all just think about his glasses! It comes down to that; it's a pair of glasses that is walking through the world, and we are seeing the world through that pair of glasses. 
Did you have any say in keeping the title font?
Oh yeah, that's going to stay the same. That was already decided upon before I came onto the project. That is the logo. There was no way I was going to touch that. 
So, in the midst of all the Harry craziness, you still have a sixth Amulet volume coming out this September?
It's actually been delayed until the following spring. That's not coming out this year, unfortunately, but it is coming out in early 2014. 
RELATED: J.K. Rowling's 'Casual Vacancy': Should it Become a Blockbuster Adaptation Too?
Do you have more in the works following the sixth volume?
Yes, definitely. 
And what can you tell me about the Amulet movie?
Oh, the Amulet movie. I know nothing about it! I know about as much as you do. It's sort of just been parked, I think. I feel like Will Smith and his kids are already busy on a lot of projects, and this is a challenging project to take on. It's quick a commitment, because if it works out, and it very likely could, then they'll be committed to quite a few projects. I don't blame them at all for being hesitant.
How do you feel about a screen adaptation of your work? Are you excited about it?
Amulet on screen? I don't know. I don't think about it so much any more. I used to, because I'm a real film nerd, and I went to film school, and I thought I was going to be a director. That part of me has kind of washed away a bit. If they make a movie, then great. I mean, I'm curious. More than anything I'm curious, and I'll be a little concerned, but hopefully I'll just be relieved. That's my hope: I hope I'm just relieved. Actually, my greatest hope would be that I'm inspired. That would be fantastic. That would absolutely wonderful.
Follow Abbey on Twitter @AbbeyStone
[Photo Credit: Scholastic (2)]
---
From Our Partners: 

'Groundhog Day' Cast: Where Are They Now?

Bradley Cooper Dancing Is Surprisingly Awkward