Are Keane Really The Most Boring Band In The World?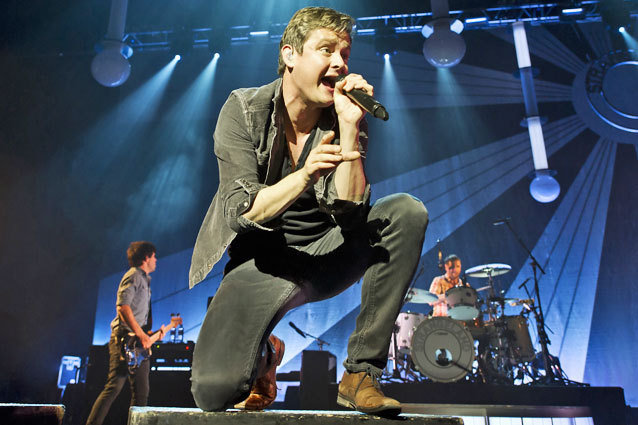 Carsten Windhorst/WENN
Despite becoming the first band since The Beatles to top the U.K. charts with their first five albums, the music world appeared to collectively shrug its shoulders at the weekend when Keane announced that they were taking a break after sixteen years together. One of many inoffensive piano-rock outfits to emerge in the wake of Coldplay's success, the East Sussex trio enjoyed huge success on both sides of the Atlantic in the mid-'00s. But they also became an easy target for the cooler indie fraternity, most notably with Kasabian's Serge Pizzorno, who famously joked that frontman Tom Chaplin's stint in rehab was more likely to be for port addiction than cocaine, and Noel Gallagher, who claimed that "whatever direction the band take, they will always be s***." But did they really deserve the 'Most Boring Band In The World' tag? Here's a look at five arguments in their defense.
"Is It Any Wonder"
Inspired by their disillusionment over the Iraq War, "Is It Any Wonder" proved that Keane weren't always overwhelmingly polite. Recorded whilst battling a drink and drugs problem, Chaplin has never sounded so impassioned on a squalling indie-rock anthem which channelled U2 at their chest-beating stadium rock finest.
Perfect Symmetry
To the surprise of everyone, Keane ditched their signature sound for third album, Perfect Symmetry, and instead looked to the widescreen '80s synth-rock of Tears For Fears, Simple Minds and David Bowie for a perfectly-executed pastiche which also produced their career-best single, "Spiralling."
"Stop For A Minute"
One of the more surreal collaborations of recent years, this lead single from 2010's Night Train E.P. saw one of the most quintessentially English bands of the '00s hook up with Somali-Canadian rapper K'Naan for a wholly unexpected venture into hip-pop.
"Early Winter"
Not exactly a Keane song, although they did later give away their cover as a free download, the gorgeous soft-rock heartbreak of Gwen Stefani's "Early Winter" suggests that its writer and the brains behind the band, Tim Rice-Oxley, may have the more fruitful solo career.
"Dirtylicious"
Recorded for Radio 1's famous Live Lounge series, Keane proved they weren't averse to the odd bit of suggestive R&B with this inspired mash-up of Christina Aguilera's "Dirrty" and Destiny's Child's "Bootylicious."
Follow @Hollywood_com