Kelly Clarkson Thinks Clive Davis is Old, Can't Remember Stuff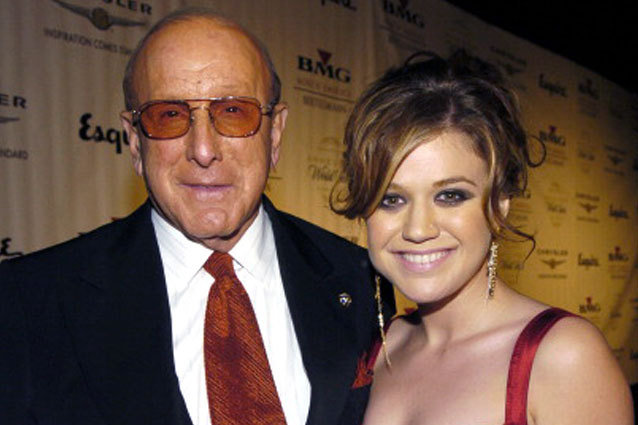 UPDATE: Davis has responded to Clarkson's WhoSay post with the service for people who refuse to play by Twitter's rules, TwitLonger. "I am truly very sorry that she has decided to take issue with what I know to be an accurate depiction of our time together. Before the book was published, I had every fact checked with five independent individuals who were present on a daily basis throughout it all. The chapter as it is written was thoroughly verified by each and every one of them. I stand by the chapter as written in my book. At the same time I wish, and will always wish, Kelly's talent and her career to soar to ever new heights," he writes.
EARLIER: Here's the thing. We started out friends. It was cool but it was all prete-end.  
These could be lyrics about Kelly Clarkson's relationship with mega-producer Clive Davis, because in the wake of Davis' autobiography release, Clarkson is furious. The singer took to her WhoSay account Tuesday to express her ire over passages in Davis' book that paint her to be a weepy, naive girl swallowed up by the music industry. And Clarkson isn't having it. But is what Davis says really all that bad?
RELATED: Clive Davis Comes Out As Bisexual in New Memoir
"I refuse to be bullied and I just have to clear up his memory lapses and misinformation for myself and for my fans … Growing up is awesome because you learn you don't have to cower to anyone — even Clive Davis," she begins, along with the claim that Davis' book spreads "false" information. But what do these passages she claims fall victim to her elders' memory loss contain?
First, she cites a passage in which Davis says Clarkson was in his office "hysterically sobbing" over his desire to include "Since You Been Gone" on her album Breakaway. According to Clarkson, the time in which she actually cried was when Davis trashed her song "Because of You." "I cried because he hated it and told me verbatim that I was a 'sh*tty writer who should be grateful for the gifts that he bestows upon me' … But I continued to fight for the song and the label relented. And it became a worldwide hit. He didn't include that in the book."
The second injustice Clarkson claims is that Davis touts his doubts about her album My December and how right they were. "He also goes on to say My December wasn't successful because I co-penned the album and it didn't have 'pop hits'. Well, first let me say, I've co-penned many of my 'pop hits,'" she writes, adding that the album went platinum, which is "Hardly a huge failure."
RELATED: Kelly Clarkson Repeats 'Natural Woman' on the Grammys
Based on Clarkson's angry 2013 version of a Livejournal entry, it would seem that Davis truly did the singer an injustice. So to see just how bad these Clarkson-centric passages were, we dove into The Soundtrack of My Life for ourselves.
First, the entire Clarkson section it set up as a way of telling the American Idol winner's story as if she owes her entire existence to his ingenuity. Gee, I wonder why that would have ticked her off? Everyone just loves being told they'd be nothing without the magnanimous wisdom of some industry overlord. But beyond that annoyance, which is the biography-release-day equivalent of your friend telling you your favorite outfit doesn't look that great on you, is there reason for Clarkson's alarm?
Perhaps there is, since Davis decided to use exact quotes of meetings with her he surely doesn't have some long-standing recording of. In reference to the "Since You Been Gone" debacle, Davis writes:
"…Kelly began the meeting by saying, 'I want to be direct and to the point. I hate 'Since U Been Gone,' and I hate 'Behind These Hazel Eyes.' I didn't like working with Max Martin and Dr. Luke, and I don't like the end product. I really want both songs off my album' …
…It was a very tough conversation, and it didn't get any easier when Kelly burst into hysterical sobbing. We all just sat there as she cried for several minutes. No one knew what to say. Then she left to go to the ladies' room. When she came back the tension in the room was thick. Finally, I said, 'I don't know what to say. I feel terrible. Your career is really just beginning and I don't expect you to understand this, but I want you so much to love this record. What you're asking me to do is impossible. I've committed to all our executives all over the world. The states are just too high. 'Since U Been Gone' is going to be the first single, and it's going to be a game-changer for you.' Kelly didn't say another word. She just looked at me with red, puffy eyes and a swollen face, and got up to leave. I truly felt awful. I've had differences of opinion with artists and my share of tough meetings, but I really had never been in a situation like that before." 
RELATED: Kelly Clarkson Sings at 2013 Inauguration
Alright, that might be a pretty good reason to get a little miffed. But it gets worse. Davis also calls out Clarkson for her anger over Davis' lack of support for My December. He writes that Clarkson supposed My December, which was comprised of songs she wrote rather than the songs of outside hitmakers, deserved the Bruce-Springsteen-treatment that Davis once gave to Springsteen's masterpiece Nebraska. "But My December is not that. My December is a pure pop album about breaking up with your boyfriend. We're not dealing with 'The answer is blowing in the wind.' There's a big difference. One is an art album, filled with poetry and meaning; the other is a pop album that still needs pop hits," he writes. Look, I highly doubt Clarkson thinks My December is akin to Nebraska, but can we just admit this is a passage Davis knew was going to ruffle the singer's feathers?
Of course, while Clarkson may have a few concrete reasons here to complain, she should be wise to remember that Davis caught her in a memory lapse of her own: "More personally, Kelly explained to a reporter that she told me, 'I get you don't like the album. You're eighty — you're not supposed to like my album.' And there I was, a mere seventy-four at the time!" ZING. Gotcha, Kelly Clarkson.
But no matter who's right or wrong, what's clear is that this is a battle of the egos. Clarkson's is wounded, Davis' immovable. Clarkson just happens to win more points in this case for being ballsy enough to pit her ego against one of the most distinguished egos (er, music executives) in the business. Of course, it also helps that she's no longer in business with Davis, a fact she makes sure to zap him with at the end of her post before signing off with the linguistic equivalent of rainbows and heart-shaped balloons.
Slamming musicians in a book with your face on the cover? Pretty gutsy. But standing up to a major music mogul with a WhoSay post full of ellipses and exclamation points? That takes real cojones.
Follow Kelsea on Twitter @KelseaStahler
[Photo Credit:WENN]
---
From Our Partners:


Bradley Cooper Dancing Is Surprisingly Awkward, Sweaty (Vh1)


Kate Upton Bares All in Nothing But Body Paint: Video (Celebuzz)