Kelly Rowland Airs 'Dirty Laundry' and Troubles With Beyonce In New Single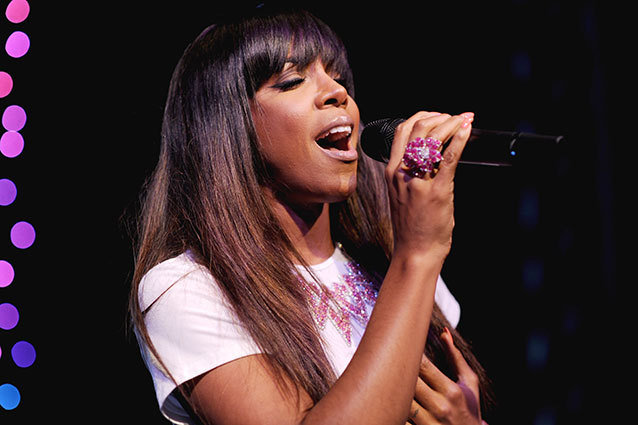 Talk about coming clean. Former Destiny's Child singer Kelly Rowland just released a revealing new single, "Dirty Laundry," which tells the story of her past abusive relationship and bravely delves into her once testy relationship with Queen B herself, Beyoncé. (I guess that's what happens when someone turns down Rowland's mic at the Super Bowl halftime show.)
Rowland's vocals are supported by a simple, stripped-down beat that keeps the focus on her lyrics which are gritty and emotional, telling Rowland's personal story of endurance.
The first verse focuses on Rowland resenting Beyoncé after Destiny's Child broke up, as well as the difficulties of the music industry. The lyrics "Bittersweet / She was up and I was down" and "Post-'Survivor' she on fire /  Who wanna hear my bulls**t?" get at the root of her past issues with her friend and former colleague. She sings about her anger — not just towards Beyoncé but towards everyone.
The second and third verses get darker as they add more details about the non-Beyoncé-related abuse Rowland dealt with, like her boyfriend "hitting the window like it was me / until it shattered." The song gives stark insight into what Rowland went through during this relationship. Her lyrics are straightforward and revealing, and she doesn't hold back about her experiences.
Rowland isn't the first woman to get stuck in an abusive relationship, and she won't be the last. But maybe her single will help women see that they don't need to be stuck. Will this be a step forward for other women looking to do their own dirty laundry?
Follow Jordyn On Twitter @Jordynmyah
More:
Sorry, But The Super Bowl Halftime Show Wasn't Great
The 10 Craziest Destiny's Child Outfits Ever
Is the New Destiny's Child Song Any Good? 
---
From Our Partners:


What Happened to 33 Child Stars (Celebuzz)


40 Most Revealing See-Through Red Carpet Looks (Vh1)