Kerri Walsh Jennings Is Pregnant with Her Third Child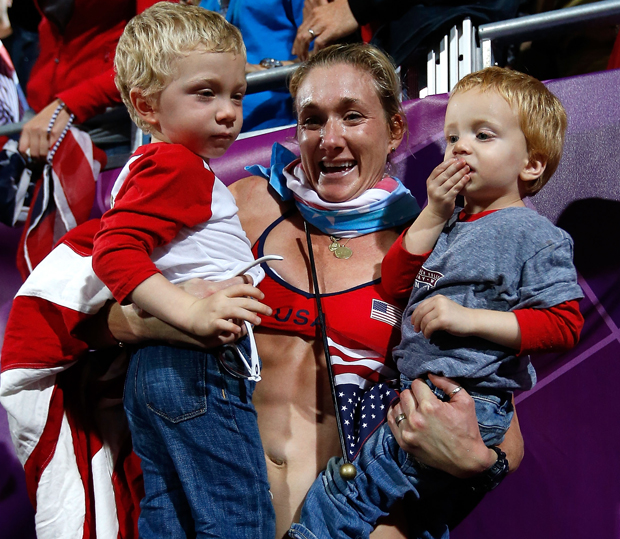 Three must be Kerri Walsh Jennings' lucky number. Not only did the volleyball star score her third Olympic gold medal at the 2012 London Olympics this summer, but she is also expecting her third baby.
Jennings, 34, revealed the news — and the revelation that she was pregnant while competing in London — on the Today show Monday morning. "When I was throwing my body around fearlessly, and going for gold for our country, I was pregnant," she said, as her husband Casey Jennings held her hand. "And today I'm 11 weeks pregnant."
And even though Jennings and her husband started trying to conceive prior to the Olympics, she didn't expect to find success right away. "I'm a pretty happy girl and I was unreasonably moody," she said. "I thought it could have been the stress of the games and travel kind of throws your schedule off, but I knew. At some point, you're late and then you start feeling something. And I definitely started feeling something in London."
Jennings is so excited to be giving her sons Joey, 3, and Sundance, 2, a little brother or sister. "I just can't keep my mouth shut," she said. "It's so exciting. It feels so great to tell people."
Follow Lindsey on Twitter @LDiMat.
[Photo Credit: Getty Images]
More:
Sharon Stone Hospitalized in Italy — REPORT
A 'Full House' 25th Anniversary Reunion Happened — PIC
Billy Joe Armstrong Checks Into Rehab
From Our Partners:

Ripped! 19 Muscular Mothers — GALLERY
(Celebuzz)

(Celebuzz)