Khloe Kardashian Gives Kim Wedding Day Advice
Less than three days left on our K-Day wedding countdown! We know the dress designer (Vera Wang), we know the location (Montecito, Calif.), and we even know the strict guest attire rule (black and white only). But what kind of wedding would it be without some family advice? Apparently Khloe Kardashian has got some words of wisdom to share with her soon-to-be married sister, Kim Kardashian.
Being a veteran bride, Khloe feels equipped to pass on some tips to her sister, saying "It's not about having everything perfect…at some point in your wedding, take your husband in a corner and just be quiet and look and enjoy the whole presence of it. And just look and enjoy because it goes so fast…it's amazing." With a $25,000 dress, a $20,000 cake, and a slew of celebrity guests, Kim really should take a mental image of it all because this is sure to be a day she will never want to forget (even after the bills come in).
But the worldly advice doesn't stop there. As far as life after the honeymoon, Khloe says "No two relationships are the same. Keep yours to yourself because everyone will have an opinion. They have no idea what goes on behind closed doors." Unless you have a reality show where cameras follow you around all the time, that is.
Even before this wise advice, Kim has appeared to be very calm about the upcoming big day and has said that she and future hubby Kris Humphries balance each other out really well, and she chalks it up to having "a good connection." We should hope so because you're about to be connected forever as husband and wife — or until divorce papers are filed. Either way.
Click the image below for more photos of the Kardashian Clan: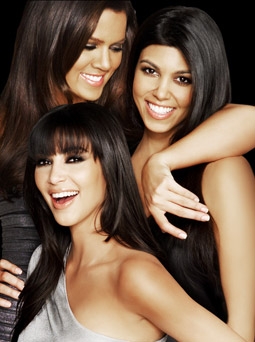 Source: US