Home
Celebrities
Kids' Choice Awards Winners: Kristen Stewart Beats Jennifer Lawrence and More
Kids' Choice Awards Winners: Kristen Stewart Beats Jennifer Lawrence and More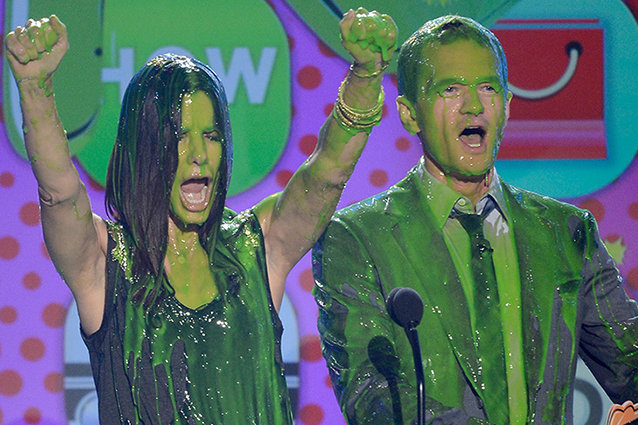 The Kids' Choice Awards: where humans too young to drive pick the winners, nominees range from Lebron James to Jennifer Lawrence to SpongeBob SquarePants, and everyone goes home dripping in lime green slime. What a glorious awards show. 
With Josh Duhamel at the helm, this year is a battle of the heavy-hitters. Justin Bieber is pitted against Bruno Mars, The Avengers against The Hunger Games, and Anne Hathaway against Kristen Stewart. In the only awards show where it's conceivable for Taylor Swift to beat Adele in a head-to-head race and for The Rock to triumph over Robert Downey Jr. (which he did, in the category of Favorite Male Buttkicker), this is anyone's game. 
Watch the Kids' Choice Awards on Nickelodeon on Saturday, March 23 at 8 PM ET and check back here to see all the winners — we'll be updating the list during the broadcast. 
Favorite TV Show
Good Luck Charlie
iCarly
Victorious — WINNER
Wizards of Waverly Place
Favorite Reality Show
America's Got Talent
American Idol
The Voice
Wipeout — WINNER
Favorite Cartoon
Fairly OddParents
Phineas and Ferb
SpongeBob SquarePants — WINNER
Tom and Jerry
Favorite TV Actor
Jake T. Austin
Lucas Cruikshank
Ross Lynch — WINNER
Carlos Pena
Favorite TV Actress
Miranda Cosgrove
Selena Gomez — WINNER
Victoria Justice
Bridgit Mendler
Favorite Male Athlete
Lebron James — WINNER 
Michael Phelps
Tim Tebow
Shaun White
Favorite Female Athlete
Gabby Douglas
Danica Patrick — WINNER
Serena Williams
Venus Williams
Favorite Book
Diary of a Wimp Kid series
Harry Potter series
The Hunger Games series — WINNER
Magic Tree House series
Favorite Videogame
Just Dance 4 — WINNER
MarioKart 7
Skylanders Giants
Wii Sports
Favorite App
Angry Birds
Fruit Ninja
Minecraft
Temple Run — WINNER
Favorite Movie
The Amazing Spider-Man
The Avengers
Diary of a Wimpy Kid: Dog Days
The Hunger Games — WINNER
Favorite Movie Actor
Johnny Depp — WINNER
Andrew Garfield
Zachary Gordon
Will Smith
Favorite Movie Actress
Vanessa Hudgens
Scarlett Johansson
Jennifer Lawrence
Kristen Stewart — WINNER
Favorite Animated Movie
Brave
Ice Age: Continental Drift
Madagascar 3: Europe's Most Wanted
Wreck-It Ralph — WINNER
Favorite Voice From an Animated Movie 
Chris Rock (Madagascar 3: Europe's Most Wanted)
Adam Sandler (Hotel Transylvania) — WINNER
Ben Stiller (Madagascar 3: Europe's Most Wanted)
Taylor Swift (The Lorax)
Favorite Female Buttkicker
Anne Hathaway
Scarlett Johansson
Jennifer Lawrence
Kristen Stewart — WINNER
Favorite Male Buttkicker
Robert Downey Jr.
Andrew Garfield
Chris Hemsworth
Dwayne Johnson — WINNER
Favorite Villain
Reed Alexander (iCarly)
Simon Cowell (The X Factor) — WINNER
Tom Hiddleston (The Avengers)
Julia Roberts (Mirror Mirror)
Favorite Music Group
Big Time Rush
Bon Jovi
Maroon 5
One Direction — WINNER
Favorite Male Singer
Justin Bieber — WINNER
Bruno Mars
Blake Shelton
Usher
Favorite Female Singers
Adele
Katy Perry — WINNER
Pink
Taylor Swift
Favorite Song
"Call Me Maybe"
"Gangnan Style"
"We Are Never Ever Getting Back Together"
"What Makes You Beautiful" — WINNER
Celebrity Slime Count: 8 (Pitbull, Dwight Howard, Sandra Bullock, Neil Patrick Harris, Josh Hutcherson, Amanda Seyfried, Josh Duhamel, Nick Cannon)
---
You Might Also Like:


15 Oscar-Winning Nude Scenes


10 Insane 'Star Wars' Moments You Didn't Notice