Kim Kardashian and Kanye West Skip the VMAs: Where Were They?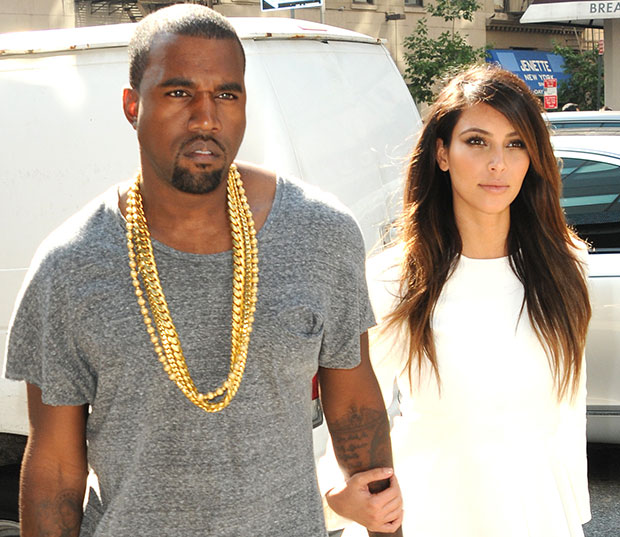 Thursday night's MTV Video Music Awards presentation was filled with high energy performances, heartfelt acceptance speeches, and hilarious one-liners — but one thing was palpably missing: Kim Kardashian and Kanye West.
After filming a promo spot for the show with VMA host Kevin Hart, fans were lead to believe that Kardashian and West would be in attendance. Sadly, however, that was not the case. Kardashian, who had to be in New York to launch her new fragrance at Lord and Taylor during Fashion's Night Out, told Celebuzz that she never intended to attend the show. In her interview with Celebuzz (video below) she was also quick to squash all rumors that West chose not to attend the show since he couldn't have his best girl on his arm. "No, no, he's working," Kardashian said. "He's recording an album. I'm sure he'd love to be there, but he's out of town."
Thursday was a busy night for Kardashian. Following her launch, she jumped on a private jet to North Carolina to attend a Democratic National Convention after-party, Celebuzz reports. "This is how we do…. Private plane & Wendy's! DNC party here we come," Kardashian tweeted.
It may be for the best that West stayed away from the VMAs this year. That way, Taylor Swift didn't have to worry about any unwanted interruptions.
Follow Abbey Stone on Twitter @abbeystone
[Photo Credit: TNYF/WENN.com]
More:
Kim Kardashian Pulls a Sarah Palin, Poses With Gun
Kim Kardashian Goes to Jail! (On TV!)
Kanye West Tweets New Nude Album Cover – And No, That's Not Kim Kardashian
From Our Partners:

Brad Pitt and Angelina Jolie's Wedding: No Plans Yet, Says the Actor
(Celebuzz)

(Celebuzz)