Kim Kardashian and Kanye West Are Suing YouTube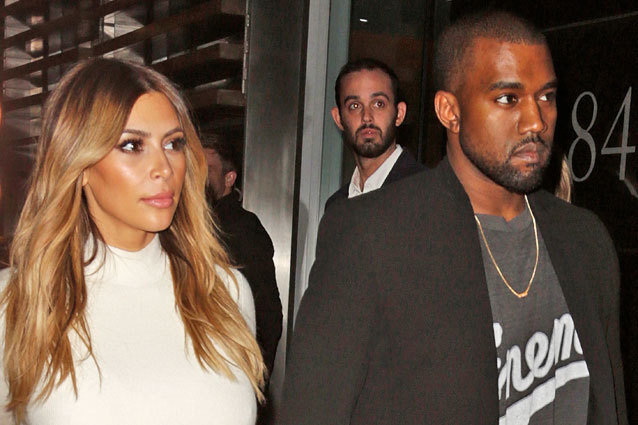 Brian To/WENN
After only a week of newly-engaged bliss, Kim Kardashian and Kanye West have found themselves in the middle of konflict and kontroversy once again. The couple are suing YouTube co-founder Chad Harley for violating a confidentiality agreement by posting a video of the biggest proposal of the year on his new website, MixBit.com, in a what they claim was a bid to gain attention and publicity for the business.
According to the lawsuit, Harley wasn't even invited to attend the event, but instead tagged along with a friend who was. However, he was allowed to stay on the condition that he sign a confidentiality agreement stating that he wouldn't post pictures or videos of the proposal online. And because Kardashian and West take their privacy incredibly seriously, Harley was even photographed with the signed contract, and the photo is included in the lawsuit documents. However, a few days after the couple announced their engagement, Harley's grainy, 3-minute video surfaced online showing West's proposal and the ensuing celebration at AT&T Park in San Francisco. 
The suit also claims that Harley further violated the agreement by tweeting about the event to his more than 500,000 followers and that he even issued a press release alerting the media to his video. Kardashian and West are accusing Harley of "breach of written contract, fraud by way of false promise and unjust enrichment," and are asking for an unspecified amount in damages, and for any of the money that Harley has made off the video to be forfeited. The documents also mention that all of the rights to footage of the proposal and party belong to MC Cable Television — an arm of Bunim/Murray and E!, the companies that produce and air Keeping Up With the Kardashians. West apparently approved of the event being filmed for the show, and possibly aired in an upcoming episode.

Call us krazy, but we might actually be on Team Kimye in this showdown. Sure, it's a bit ridiculous to sue someone for filming something that you're only going to put on television anyway, and since neither Kardashian nor West have ever been particularly private about their lives before now, it's easy to make fun of them for suing over a broken confidentiality agreement. But if someone makes you take a photo with a contract you've signed, to prove that you've signed it, doesn't it seem like violating that contract immediately afterwards is a stupid decision? Surely Harley didn't think he was going to be able to sneak something past the one family in the world who have more cameras trained on them than the Obamas. 
Maybe it is all just an elaborate plan to get people talking about MixBit. After all, was anybody even aware of the website before Kardashian and West filed their lawsuit? Perhaps Harley is just a firm believer in the idea that "there's no such thing as bad press." He might even be hoping that he'll be talked about on the next season of Keeping Up With the Kardashians. If he's really lucky, maybe he'll get to appear on the show. 
Whatever happens, we're sure that there will be plenty of cameras present to keep the world informed.