Kim Kardashian Goes "Dumb" Blonde: See the Photo!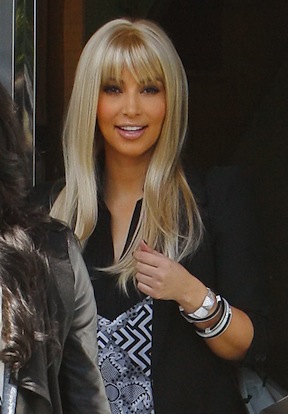 Kim Kardashian is not without a sense of irony. The reality star was seen rocking a blonde wig on March 12, mere days after Mad Men star, Jon Hamm, referred to her as an "idiot." And though it's doubtful the E! star donned a different hair color just for that purpose, you can't help but appreciate the humor of it all (insert dumb blonde joke here).
However, it's likely just a pleasant coincidence. Kim's been known to enjoy changing up her hair color every so often and even dyed her hair blonde back in 2009. And with her failed marriage to Kris Humphries well behind her now, she could simply be considering a fresh do for a fresh start. The color might soon become permanent.
In fact, the naturally brunette star tweeted about her hair change-up on March 12, writing, "I miss my real blonde hair. I might go lighter."
Do you prefer Kim Kardashian as a brunette or a blonde? Sound off below!
Kim Kardashian leaves The Hair Shop in a blonde wig after Jon Hamm
        comments about her being stupid in Los Angeles, California
                                          Photo credit: INF