Kim Kardashian in Bahrain and Nine Other Celebs Who Wore Out Their Welcomes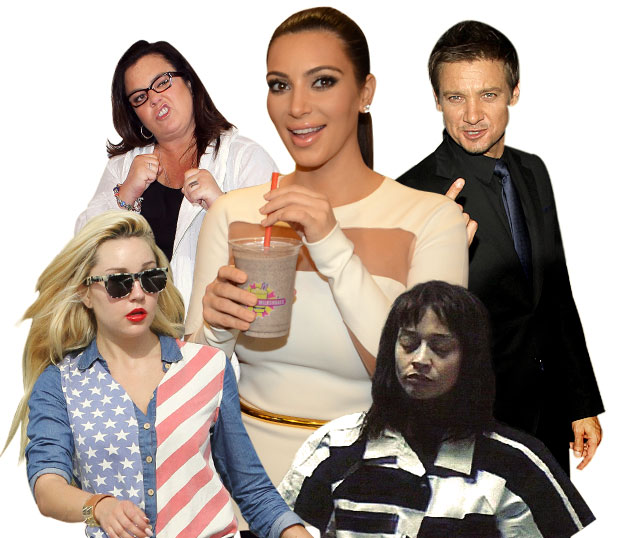 What's all this about milkshakes? Over the weekend, milkshakes became the subject of ire and protest in Bahrain. But the protesters weren't a gaggle of lactose intolerant consumers worried that the effect of the delicious treat (something some folks
might call Sweet Mucus
) would disrupt their constitutions. They were actually protesting the celebrity paid to promote the milkshakes in question:
Kim Kardashian
, according to
CNN
.  The star arrived in the city as part of a tour of the Middle East in an effort to promote the food chain Millions of Milkshakes. Kardashian was greeted by a large band of protesters; a local paper reported that it got so bad, the Kardashian-detractors were allegedly tear-gassed. However, the owner of Millions of Milkshakes, Sheeraz Hasan,
tweeted
 his denial of the described opposition: "WHAT PROTESTS?? Kim Kardashian loved by the people of Bahrain & wants to return!!" No proof of the gassing has emerged, but the protesters have been photographed. Clearly, Kardashian's presence was not a welcome one, at least to a few folks, in Bahrain. Yes, Kim K may be able to bridge the gap between rap music lovers and celebrity gossip fiends, thanks to her hallowed union with Kanye West, but she can't win
everyone
over. But she shouldn't worry. There are plenty of other celebs who have outworn their welcome all over the world. You're in good company, Kimmie.
Sienna Miller, Exiled from Sh**sburgh
When working on a film in Pittsburgh, back in 2006, the actress told
Rolling Stone
, "Can you believe this is my life? Will you pity me when you're back in your funky New York apartment and I'm still in Pittsburgh? I need to get more glamorous films." Needless to say, the people of Pittsburgh were doing their best, premonitory McKayla Maroney impressions.
UK to Chris Brown: Go Ahead, Try and Sell Your Albums Here
In September, Chris Brown's album
was found
with a rather pointed warning label: "WARNING/DO NOT BUY THIS ALBUM/THIS MAN BEATS WOMEN." Leave it to the Brits not to mince words. Of course, the stickers were likely placed on the CDs by activists, because you'd be hard pressed to find a music merchant actively try
not
to sell those piles of CDs in this digital-music-dominated world.
Rosie O'Donnell Has to Cruise Right Around Bermuda
In 2007, Rosie O'Donnell organized a cruise for gay and lesbian families, but was forced to quickly change course when the threat of religious protests in Bermuda arose. In an effort to continue the tone of acceptance, O'Donnell and the cruise line wisely decided to change course for friendlier ports.
Kelly Clarkson's Smoke Ignites a Fire in Indonesia
Jakarta was the site of protest when singer Kelly Clarkson scheduled a concert sponsored by a cigarette company. Fans and anti-tobacco activists protested the show, but Clarkson still managed to deliver a show for her fans. But no matter how hard she sang the hits, she undoubtedly angered a few could-be fans.
Amanda Bynes, Please Leave Us Alone – Love, the Roads of America
After Bynes went on a mind-boggling auto-mishap spree in September, the DMV finally did drivers and pedestrians everywhere a solid: they suspended her driver's license. Consider yourself ex-communicated from the driving community, Miss Bynes.
Jeremy Renner, You Should Probably Stay Out of Phuket
This wasn't exactly Renner's fault, but it couldn't hurt for him to steer clear of the famed Thailand playground. He was present during a bloody, vicious fight at the Thai resort in Phuket. His publicist denied his involvement, but while the manager of the resort was stabbed, Renner was the one making headlines. Perhaps he should try somewhere a little less traumatic for his next vacation. I hear Disney World has great vacation packages this time of year…
Celebs Who Like to Toke, Avoid West Texas, Please
When someone like Willie Nelson, one of the most famous stoners alive, gets picked up for marijuana possession, you take notice. When Armie Hammer, a man who's so well-kempt you'd think he'd get drunk off of whiskey fumes faster than Mitt Romney, gets picked up for the same thing, you start to wonder what's going on in West Texas. And when Fiona Apple gets nabbed in the same region for a little hash, you throw your hands up and wonder just how bored those West Texas cops are. Celebs, if you must toke, don't do it in West Texas anymore. Deal?
Your Wares Are Not Wanted in Mecca, Paris
When Paris Hilton opened a boutique in the Mecca Mall in Saudi Arabia, many Muslims
took to Twitter
, expressing issue with a woman who became famous from a sex tape selling her goods (purses and accessories, not
those
goods) in the holy city. Hilton clearly didn't understand or feel the heat. She promptly tweeted that Mecca was "loving my beautiful new store."
Madonna's Self-Loving Dance Moves Incur Rare Canadian Rage
When Madonna added a performance element to her Blond Ambition tour in 1990, she actually angered Canadians. The notoriously easygoing country was in a bit of a tizzy over Madonna's performance of "Like a Virgin," which included the simulation of masturbation. Luckily for Madonna, she refused to cut the number and the Canadian police were just like, "Oh, okay then."
Follow Kelsea on Twitter @KelseaStahler
[Photo Illustration by Hollywood.com; Photo Credits: WENN (3); Merino/INFphoto; Hudspeth County Sheriff]
More:
Kim Kardashian Pulls a Sarah Palin, Poses With Gun
Kim Kardashian Prepares for Motherhood by Freezing Her Eggs
Kim Kardashian Plays Dress Up as Sophia Loren — PICS

Inside 'Bachelorette' Stars Ashley Hebert and J.P. Rosenbaum's Wedding — EXCLUSIVE DETAILS

Mario Lopez, Courtney Mazza's Wedding Pictures Revealed!