Kim Kardashian & Kris Humphries Battle Over Annulment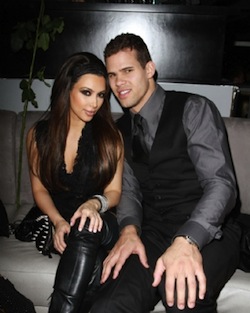 It's been five months since Kim Kardashian and Kris Humphries announced that their relationship was over — so why are they still married? It seems that while they agree that their 72-days as man and wife were a bust, they can't see eye to eye on who should take the blame.
Kim and Kris both want an annulment, not a divorce, but they each want their former spouse to say that they committed fraud. Kris claims that Kim only got married for publicity and never intended their relationship to last "till death do us part." It's a popular theory, but Kim has always insisted that she married for love, not for ratings. Sources tell TMZ that Kim wants Kris to confess to defrauding her by saying he'd move to Hollywood, then demanding that she move to Minnesota after they were married.
Another issue standing between the couple and unmarried bliss: Money. Kris is reportedly asking for $7 million, though he signed a prenup that says he's entitled to nothing if they split. Kim may be willing to pay anyway — but only if Kris will admit he's in the wrong.
Source: TMZ