Kim Kardashian May Sue Flour Attacker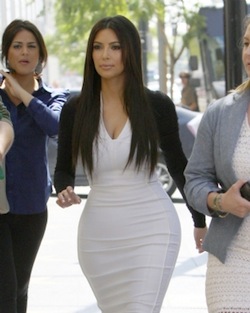 Initially Kim Kardashian said she wouldn't file a complaint against the woman who doused her with flour on the red carpet last week, but now that the dust has settled (literally) the reality starlet is reconsidering.
"I am just going to think about it, because I don't want someone to think they can really get away with that," Kardashian tells E! News. "I was laughing it off earlier and, you know, I think that is the only thing I knew how to do at the time," she explains. A non-criminal battery report was filed shortly after the incident, but now the Kardashian sister say she may press charges. "I think, 'What if that was some other substance? What if that person had a dangerous weapon?' It's scary. And what's even scarier is this woman acted as if she was a part of the press. She just came out of nowhere! And so we are definitely changing things up a little bit, amping up security, taking some measures, and…I'm gonna definitely deal with it because it is not acceptable."
It's unclear what message we were supposed to take from the powdering (never leave home without a lint brush?), but there are reports that the woman screamed something about about wearing fur. PETA insists it had nothing to do with the incident, but the animal rights group couldn't pass up an opportunity to criticize one of the most fur-friendly celebrities. "If she presses charges, at least people will be constantly reminded of her selfish, callous disregard for the cruel deaths that she causes by wearing fur," says the animal rights organization. "How much better it would be if she decided to evolve and enhance her image by donating her vulgar furs and exotic-animal skins to the homeless. The activist acted from the heart, something Kim doesn't seem to have." PETA says it would consider paying the flour-tosser's legal fees and adds, "If anything, Kim should get a life, the very thing that she denies animals."
It doesn't seem fair to say Kardashian needs to "get a life" simply because she wants to see an assault prosecuted. Regardless of your thoughts on wearing fur, we can all agree that throwing things at celebrities isn't a very intelligent way to get your point across.