Kim Kardashian's Bra (Shirt?) Channels a 'Seinfeld' Classic  — PIC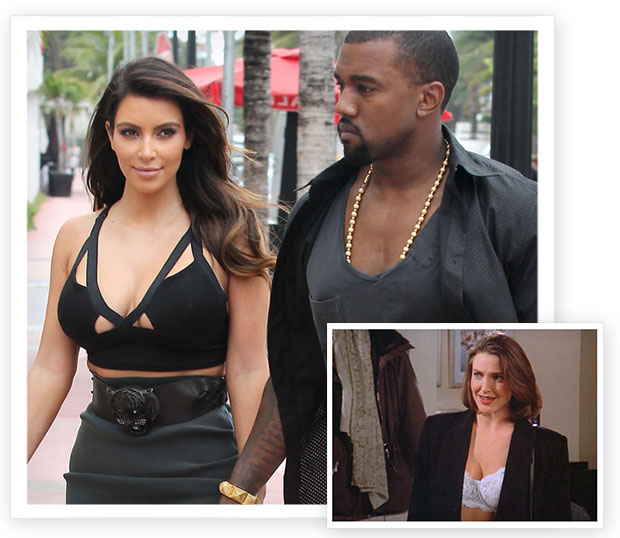 So you're driving in the car, you're with your friend, you're minding your own business… and then what happens? You see a woman. Wearing a bra and no top. Walking around in broad daylight. Flouting society's conventions. It's totally inappropriate. It's lewd, lascivious, salacious, outrageous! …
… at least that's how Jackie Chiles would describe it. As you can see in the above photo, one Kim Kardashian was caught on film on Sunday, strolling around Miami with her boyfriend Kanye West, draped in a garment that might be more accurately described as a bra than a shirt. In other words, she pulled a Sue Ellen Mischke.
Yes, Sue Ellen Mischke — the heir to the Oh Henry! Candy Bar fortune who once vied for the possession of John F. Kennedy's golf clubs and went by the name "the bra-less wonder" at her Maryland high school. Lover of Jerry Seinfeld and Lex Luthor to one Elaine Benes. In other words: a fictional character, but perhaps she is coming to life in the form of Kim K!
So what other Seinfeld favorites might we find inhabiting the bodies of our favorite celebrities? Will Justin Bieber become a close-talker? Will Snooki wear the same blouse over and over? Will Lindsay Lohan start eating her peas one at a time? … If only life was like that.
[Photo Credit: Pacific Coast News; NBC]
More:
Taylor Momsen Strips Down, Goes Nude in New Video
Here Are Some Paul Ryan and Joe Biden VP Debate Memes, My Friend
Brad Pitt's Chanel No. 5 Ad Is Embarrassingly Awful
From Our Partners:

Miranda Kerr, Alessandra Ambrosio, and Erin Heatherton Talk Seduction, What Makes the Victoria's Secret Angels Swoon — VIDEO
(Celebuzz)