Kristen Bell Talks On-Screen Nudity & Her "Four-Way Marriage"

Kristen Bell has already proven to have an unhealthy obsession with sloths, but how does she feel about on-screen nudity? As it turns out, she's not that thrilled with the idea – sorry, fellas. The actress recently opened up to Women's Health magazine about her nudity aversion, saying that she will only strip down to her "bra and underwear" on her new Showtime series House of Lies.
But it wouldn't be a true Bell interview without a few odd factoids thrown into the mix. The Big Miracle star also has a unique fondness for butts. That's right: butts. Bell explained to the magazine, "[Butts are] My favorite things on the planet. I want two round cupcakes, always."
You'd never know it on set though, since the star confessed she refuses to completely drop trou while filming. Bell proclaimed, "I don't show my crack! All the Mr. Skins of the world are like, 'ooh, Kristen gets naked!' I'm like, 'Dream on!'" How…ironic?
Although, Bell would have no problem showing her backside off if it looked like Don Cheadle's, her co-star on the Showtime hit. She commented, "If you had those beautiful chocolate bun-cakes, you'd show 'em too, let's be honest."
But Bell's got more on her mind than just nudity and derrieres. She also talked about her personal life with fiancé, Dax Shepard, and their extremely close relationship with their best friends. In fact, they like their friends so much, Bell revealed that they're looking into sharing a four-way marriage together.
"We decided to create the first four-way marriage, where our couple has married their couple," Bell said. Of course, she's probably joking, but this actress is always full of surprises, so you never completely know for sure.
Whether they're a couple of couples or just a regular pair, the Hollywood star could not be happier in her relationship with Shepard, admitting, "We nauseate ourselves with how mushy we are." And we wish them all the best.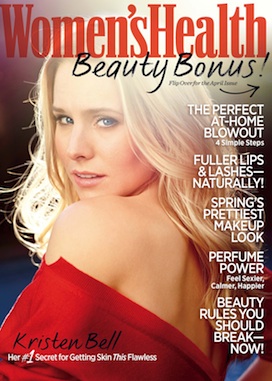 Source: Women's Health