Kristen Stewart: "I'm a Miserable C***!"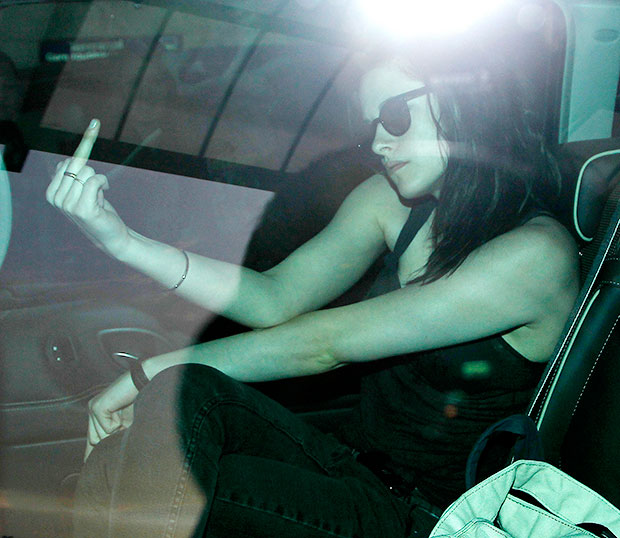 Kristen Stewart is a "miserable c***." She said so herself! In an interview with designer Nicolas Ghesquière for the November issue of Marie Claire UK, Kristen responded to a question about her happiness by saying, "I'm a miserable c***!" She went on to say, "I'm not sure if I'm most happy when I'm comfortable and content or when I'm pushing myself to the limits. There are such different versions of happy. And I really appreciate both." That's nice, Kristen, but it's too little too late. You already spilled the beans, confirming what we've thought for years: you're not capable of happiness.
Jokes, of course. We're sure there's room somewhere in Stewart's heart for a kernel of joy — heck, we've seen her smile a time or two. But she has never been one to laugh in interviews or grin on the red carpet. Now, with Stewart bandying about self-deprecating curse words like it's nothing, she seems to be embracing the public's view of her as a stoic, oftentimes melancholy individual. It's probably safe to say that Stewart's pronouncement of herself as "miserable" surprised no one — but do we think this is the reaction she was going for? Has Stewart fully accepted the fact that everyone assumes she's an unhappy person? And, if so, is that a good thing? I don't know… it seems a little sad to proclaim to the world that you're miserable (and call yourself the c-word).
Here's an idea! Maybe, instead of resigning herself to a miserable fate, Stewart should work on brightening up her image. After all, she is on the up and up. Chin up, girl! You is kind, you is smart, you is important. And lest you forget, here are five other reasons you should be happy right now: 
1. You may be back together with your boyfriend.
Sure, this summer was rough (what with you deciding to have an affair with your director and breaking up with your boyfriend and all) but, if People's sources are to be believed, things are back to being hunky dory with you and Rob. That's great news! Right?
2. You are about to release a huge movie.
We're only a month away from the release of The Twilight Saga: Breaking Dawn — Part 2, a film that is sure to be a box office hit and put lots of dollars in your pocket. But, even more exciting than seeing your face plastered on billboards all across the country, is the fact that you will never have to promote a Twilight film ever again. No more talking about imprinting and red contacts and signing autographs for prepubescent fans. That's gotta feel good, right?
3. On the Road premieres in December.
Remember that little movie you made about your favorite book? That one where you got to let loose and take off your shirt? People will get to see that soon. That'll be fun.
4. Snow White Round Two is in your future.
Despite early reports to the contrary, you weren't fired from the Snow White and the Huntsman sequel. Yay!
5. You're not this kid.
Follow Abbey Stone on Twitter @abbeystone
[Photo Credit: WENN]
More:
Should Robert Pattinson Get Back Together With Kristen Stewart?
Are Robert Pattinson and Kristen Stewart Getting Back Together?
Kristen Stewart on Impending Rob Pattinson Reunion: 'We're Totally Fine'
From Our Partners:

'Bachelor' Winner Courtney Robertson Speaks Out On Break-Up From Ben Flajnik: "He'll Always Have a Special Place in My Heart"
(Celebuzz)