Kristen Stewart Refuses to Admit She's Back with Robert Pattinson — VIDEO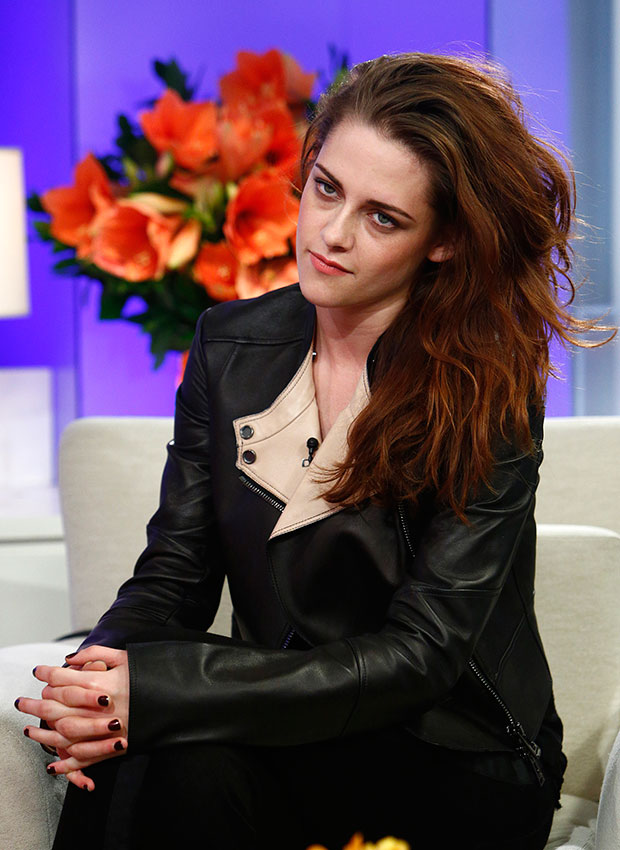 With Kristen Stewart making the media rounds to promote the release of The Twilight Saga: Breaking Dawn – Part 2 next week, it was bound to happen. And Wednesday morning it did on the TODAY show when Savannah Guthrie took the leap and asked the question that the rest of the world has been dying to ask. Guthrie said, "You have so many fans, and they will be mad at us if we don't ask you, and they follow your life and they want to know, 'Are you back together with Robert Pattinson?'"
Yes, Guthrie really did it — but of course sly Stewart had a coy response readily prepared. "Funny you mention that," she replied. "I'm just going to let people watch whatever little movie they think our lives are and go for it. Keep them guessing, I always say."
So TwiHards still don't have their answer. All we can do now is hope that Stewart will soon offer another heartfelt statement like she did when the news broke that she had cheated on Pattinson with her Snow White and the Huntsman director, Rupert Sanders. "I'm deeply sorry for the hurt and embarrassment I've caused to those close to me and everyone this has affected," Stewart said in the statement, according to People.com. "This momentary indiscretion has jeopardized the most important thing in my life, the person I love and respect the most, Rob. I love him, I love him, I'm so sorry."
TwiHards, are you expecting Stewart to make another such statement to confirm the news that Pattinson has taken her back? Until that happens and for now, watch a short clip from her interview with the TODAY show below.
Follow Lindsey on Twitter @LDiMat.
[Photo Credit: Peter Kramer/NBC]
More:
Kristen Stewart Apologizes to Robert Pattinson: 'I Love Him, I Love Him'
'Breaking Dawn – Part 2' Star Peter Facinelli Is Going to Miss Stunt Training with the Cullens
Late Night Last Night: Kristen Stewart on 'Leno' Vs. Robert Pattinson on 'Kimmel'

Kim Kardashian Reveals 10-Pound Weight Loss! 
(Celebuzz)