Thanks to Adele and Taylor Swift, Ladies Save the Music Industry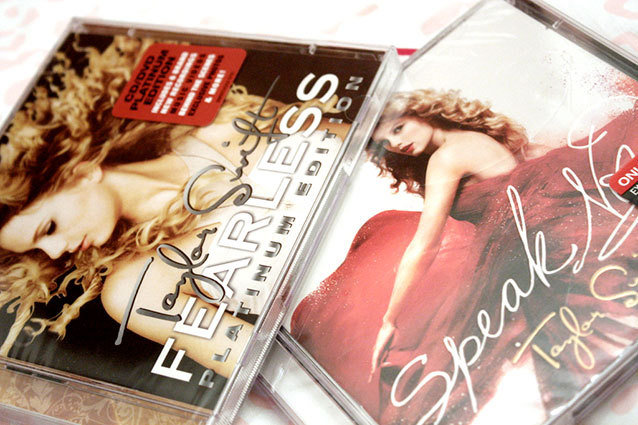 Adele may have underwhelmed many with her Oscar performance, and let's face it — bashing Taylor Swift is now an official national pastime. But the two were among the female powerhouses of pop who led the music industry to its first uptick in sales in 13 years, so … there.
The International Federation of the Phonographic Industry states that global revenue rose 0.3 percent last year, The Hollywood Reporter reports. IFPI chief exectutive Frances Moore says, "It is hard to remember a year for the recording industry that has begun with such a palpable buzz in the air." And in addtion to an increase in subscription services memberships and a decrease in digital music piracy, Adele's and Swift's album sales had a lot to do with the success.
RELATED: Mixed Feelings Abound Over Adele's 'Skyfall' Performance
Along with chart-topper Carly Rae Jepsen — whom no one has managed to dislike yet, thanks to those adorable bangs and "Call Me Maybe"'s permanent place in our brains' pleasure centers — the two powerhouses showed that no one needs to patronize women of the music industry any longer. That means you can stop with your "Women of Rock" magazine issues and your "Best Female Songs of All Time" lists. Women in pop music are killing it, in case you didn't get the message from Beyoncé's Super Bowl performance. If anything, we might need to start honoring the brave men who are doing it for themselves in the female-dominated world of music. Oh, right, Seattle's The Stranger already did that, hilariously.
RELATED: Taylor Swift's 'Red': How Can She Catch Up To 'Nsync? 
But really, in a pop world where American Idol can't stop crowning guitar-playing white guys as its champs, it does come as a bit of a surprise that solo women are such a draw. And it's impossible — even, possibly, pointless — to speculate why. Maybe more guys are in bands, but solo artists catch on more with fans. Maybe teen girls are the only fanbase worth having, sales-wise. We can only hope that this sends a message to the music industry that women are here to play — and can deliver.
Hollywood.comcorrespondent Jennifer Keishin Armstrong is the author of two forthcoming books, Sexy Feminism (due out in March) and Mary and Lou and Rhoda and Ted, a history of The Mary Tyler Moore Show (due out in May). For more information visit  JenniferKArmstrong.com.
Follow Jennifer on Twitter @jmkarmstrong 
[Photo Credit: chu11/flickr]
---
From Our Partners:


25 Most Scandalous Celeb Twitpics (Vh1)


33 Child Stars: Where Are They Now? (Celebuzz)