Lady Gaga Cancels Show in Indonesia Following Threats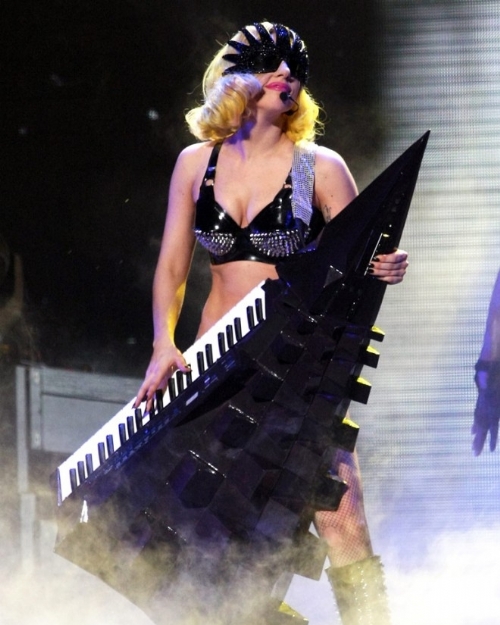 After receiving threats from Islamic hardliners, Lady Gaga has opted to cancel her sold-out show in Indonesia, which was originally scheduled for June 3. The Associated Press reports that Gaga, who is on the international leg of her Born This Way Ball tour, and her promoters canceled the concert following warnings of violence and chaos aimed at the eccentric performer. 
According to the AP, "The most notorious group, Islamic Defenders Front, called Lady Gaga 'a messenger of the devil' and vowed to turn out at the airport by the thousands if she tried to step off the plane.A representative of the group had previously claimed IDF supporters had purchased 50 tickets for Gaga's Ball and their "target was to stop the concert." 
It's been a troubled road to Indonesia, as the singer was initially denied a permit to perform at Gelora Bung Karno Stadium after receiving criticism from clerics who saw her outfits and lyrics too suggestive. While promoters have offered full refunds to those who were supposed to attend the concert, Gaga vowed for something more for her disappointed fans. The singer tweeted on Sunday, "We had to cancel the concert in Indonesia. I'm so very sorry to the fans & just as devastated as you if not more. You are everything to me… I will try to put together something special for you. My love for Indonesia has only grown. #GagaSendsLoveToJakarta and all its people." 
In spite of what the IDF called a "victory," Gaga's Indonesian fans stayed united in their front for free speech and devotion to their "Mother Monster." In fact, a group of fans performed a flash mob dance to Gaga's song at a shopping mall in Jakarta. As one 25-year-old fan cried to the AP in response to the news, "For God's sake, she is not a terrorist!
More: