Lady Gaga Goes Drag In 'You and I' Cover
The many faces of Gaga. Ever since her career took off with number one singles and unforgettable appearances on the red carpet, Lady Gaga has been both praised and criticized for her eccentric and somewhat risque personality. Questions even began to surface about her gender because if you're ever slightly different in Hollywood, then something has to be wrong with you. Well I expect that rumor mill will once again start working double time on these ridiculous gender allegations with the release of her new cover of Yoü and I which the singer tweeted on Friday. The person in the photo may look unrecognizable at first glance, but if you look beneath the sideburns and facial hair, you'll see the unmistakable face of Gaga: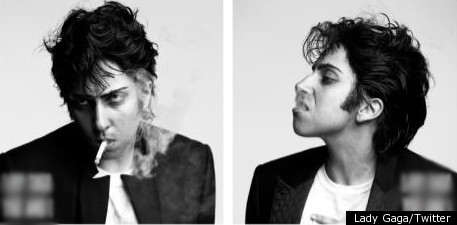 For all of you major Gaga fans, you will know the cigarette smoking, bad ass person pictured here is none other than Jo Calderone, who is the drag alter-ego of the Grammy winning singer. The pop star released the photos on Twitter saying, "You will never find what you are looking for in love, if you don't love yourself. #You&ISingleCover," and promised to release the single's music video when she hits her 1000th tweet. Gaga is clearly in touch with both her male and female sides and encourages others to embrace your own unique self. So what do you think — do you find this inspiring or are we just one more meat dress away from putting our Mama Monster into a padded room?
Source: Huffington Post