Lady Gaga Leaks Fake Rap Song, Sorta — LISTEN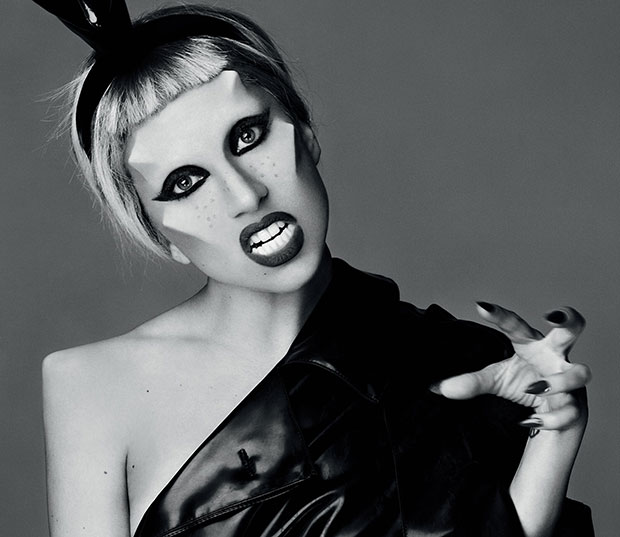 Alright, ready to be slightly confused by this new probably-a-joke-but-still-sorta-slightly-offensive (she says "burqa swag" at one point. …what?) Lady Gaga rap song? OK here we go! According to Spin, it sounds like Gaga and her producer DJ White Shadow are having a goofy ol' time pranking her fans by recording a song that they made out to sound like an anonymous and totally random fan submission. Not so! Thankfully, Gaga's little monsters are also part-time musical sleuths.
Earlier today, White Shadow took to Twitter declaring that he'd made a trap-rap (this is a sub-genre of rap) song and wanted fans to make a song out of what he uploaded.
I just made this TRAP s**t, so I am going to put it on my soundcloud. Then I am going to give everyone a couple hrs to make a song.
— DJ WHITE SHADOW (@DJWS) September 19, 2012
He also explained there would be bonus points for references to Gaga. So, naturally, fans started creating songs and sending them in like the loyal little monster fanatics they are. After a few hours, White Shadow tweeted that he'd found "THE ONE" but that the person who submitted it would like to remain anonymous. Mysterious and highly suspect, no?
White Shadow then releases the winning track via SoundCloud, and it was all very strange. The song featured a super-slowed-down vocal and bizarre lyrics including the aforementioned "burqa swag" and "cake like Lady Gaga." Everyone wanted to know what was going on, so one fan decided to speed up the vocals–just for funsies?
And lo and behold, quite the discovery was made: it was, in fact, Lady Gaga herself rapping on the track! Or at least, someone who sounded totally and exactly like Lady Gaga. Tricks and games, my dudes! Tricks and games. Fans seem to agree that the vocals are definitely Gaga–some even claim her best friend and make-up artist Tara Savelo confirmed this via Twitter, though that tweet cannot be found online at the moment. But it wouldn't be surprising if it was Gaga–she does have a new album coming out, so this sort of publicity stunt seems right up her alley, no? Judge for yourself, though–we've included the tracks below for your aural pleasure (we use the word "pleasure" ironically here).
Please be forewarned that this is also TOTALLY NSFW. Swear words aplenty! First track is the original, second is the one with the rap pitched back to original speed.
What do you think of Gaga's latest stunt? Do you think it's a joke? Do you think its really her or just someone imitating her? Let us know in the comments.
[Photo Credit: Mariano Vivanco/Interscope]
Follow Alicia on Twitter @alicialutes
More:
Lady Gaga: Why Did She Shave Her Head?
Lindsay Lohan Cast in Lady Gaga Music Video
Lady Gaga Goes from Mother Monster to Wolf Mother in 'Machete Kills' — PIC