Lady Gaga Remembers Marilyn Monroe's 86th Birthday

Today, June 1, is very special for several reasons. Not only is it Friday (yay), but it also marks what would have been Marilyn Monroe's 86th birthday. It's hard to believe it's been nearly 50 years since her tragic death, yet her iconic memory still manages to captivate the world even to this day. In fact, you could even say we as a society are Marilyn-crazed with all the major motion pictures and TV shows created in her honor. Even Hollywood stars can't get enough of this glamorous gal.
Early this morning, Lady Gaga took to Twitter and wished the late actress a happy birthday by styling herself up with Monroe's signature big blonde curls and posting the image for all to see. "#HappyBirthdayMarilyn They'll never take our blonde hair and lipstick," Gaga tweeted along with the black and white pic.
And while imitation is certainly the highest form of flattery, Gaga is by far not the first celeb to don Monroe's iconic '50s look. Everyone from Michelle Williams to Jennifer Lopez have replicated her in pictures, magazine covers, TV shows, and films. Marilyn may be physically gone, but these stars have proven that her memory will live on forever.
Michelle Williams in My Week With Marilyn
Sure, anyone can put on a blonde wig and red lipstick, but Williams' remarkable portrayal of Marilyn in this 2011 box office hit proved to be almost as magnificent as the late star herself. Williams' performance was even nominated for an Oscar.

Katharine McPhee and Megan Hilty in Smash
Between the outstanding musical numbers and these incredible outfits, fans all across America are begging for Bombshell to become a real-life musical on Broadway. And these girls, especially Hilty, manage to pull of Marilyn's sultry look to a T. Is there any wonder why President Kennedy wasn't able to resist these feminine charms?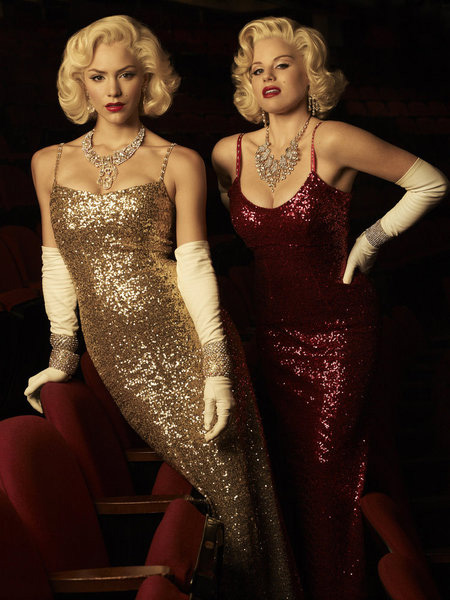 Next: Marilyn would find this very aMUSEing.Kate Upton On the Cover of Muse
This 19-year-old model chose to grace the cover of Muse magazine this year by paying homage to the Hollywood legend's sexy look. Wearing nothing more than a white bed sheet, Upton pulls off the blonde wig to perfection, which was sure to make all men swoon.

Rihanna on the Cover of Vogue UK
This singer looked fierce while posing for the November 2011 cover of Vogue UK. Decked in a couture strapless gown and blonde wig, Rihanna proves that she has what it takes to be a blonde bombshell like Marilyn. Cheers to that!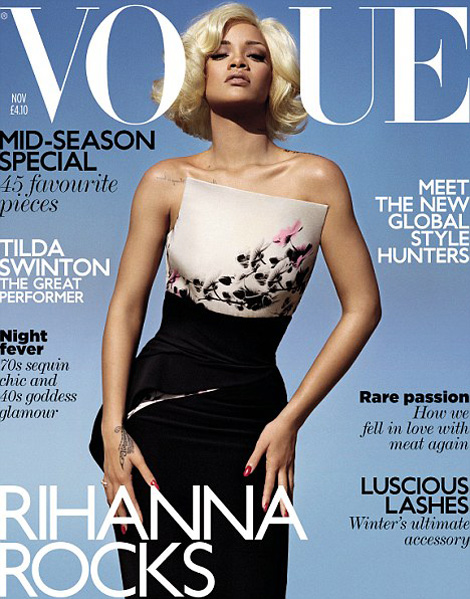 Angelina Jolie in Life or Something Like It
The famous Hollywood star appeared in the 2002 romantic comedy Life or Something Like it, looking awfully similar to Ms. Monroe (notice the sexy finger bite). Has Brad Pitt seen this film?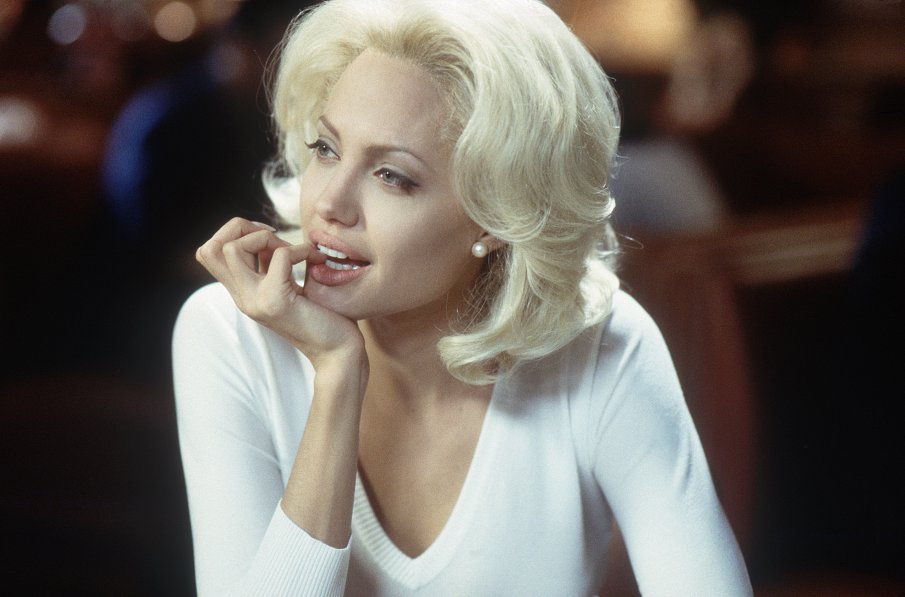 Next: Monroe Meets Material Girl.Madonna in Dick Tracy
This classic film showcased not only Madonna's amazing singing voice, but also her ability to impersonate Marilyn is almost every way. You have to admit, they certainly seem to strike a similar pose.
Jennifer Lopez on the George Lopez Show
J. Lo and all her curvy-glory stopped by the set to wish the host and his television show a very happy birthday with her best Marilyn Monroe impression. Lopez was probably feeling pretty good about himself during this little performance. Lucky guy!
Lindsay Lohan on the Cover of New York Magazine
This picture pretty much speaks for itself.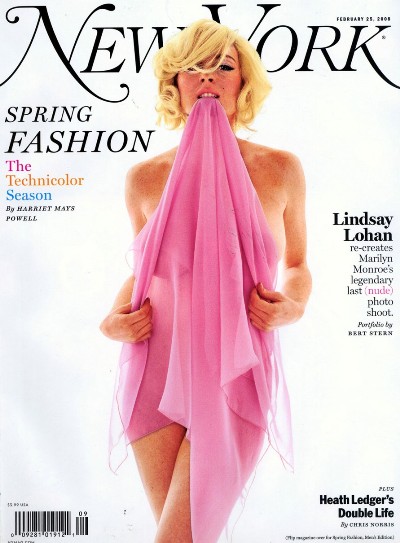 [Image Credits: Muse, Vogue UK, NY Mag]
Follow Kelly on Twitter @KellyBean0415
More:
Michelle Williams Embodies an Icon in My Week with Marilyn Poster