Lady Gaga's Newest Friend: Lindsay Lohan?

Lady Gaga appears to have a brand new Little Monster on her hands — in the form of Lindsay Lohan, that is. The two Hollywood stars seem to be getting pretty close these days, which includes tweeting a series of comical messages to each other on the social media site (although Gaga has since bizarrely deleted them from her account while Lohan's messages still remain in tact).
Nevertheless, the girls have obviously been hanging out together and enjoy one another's company. This became apparent after the "Born This Way" star began poking fun at Lohan's unique diet. "@lindsaylohan when you ordered a cucumber and a knife to the bar last night i thought your were gonna perform a vasectomy #justaskinnyb—th," Gaga wrote.
Lohan soon after replied, "#skinnysnack1? @ladygaga hahaha."

Gaga then tweeted Lindsay a picture of a cucumber, next to an array of sliced lemons on a tray on a bar, with the cheeky caption: "How much could one do with this arrangement."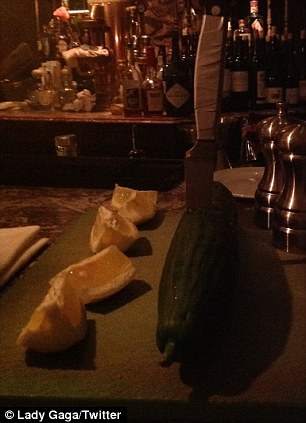 It's an odd pairing to say the least (oil and water might have more in common), made even stranger by the fact that Gaga felt prone to erase the interaction. Could this mean Mama Monster is embarrassed of her newest confidante or was she just trying to save Lohan from further media attention? Either way, it will be interesting to see how/if this friendship progresses because right now it just sounds like a bad womance.
[Photo credit: AKM-GSI]
Lady Gaga Friends With Lindsay Lohan
More:
Lady Gaga Debuts Princess Die: Her Darkest Song Ever? — VIDEO
Lindsay Lohan Actually Pulls Off Liz Taylor — PICS