Lance Armstrong Confesses to Oprah: Do You Forgive Him?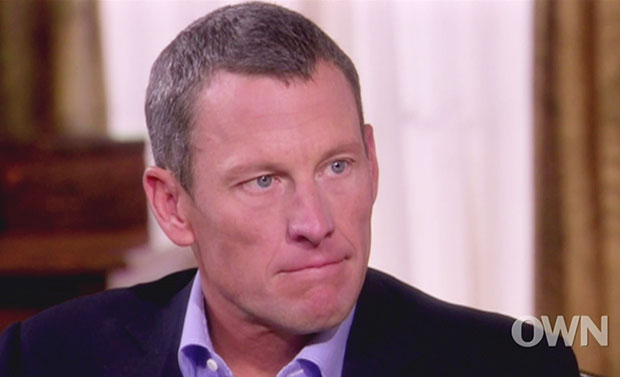 Lance Armstrong is a jerk. At least, that's how he repeatedly labeled himself during his interview Thursday with Oprah Winfrey, during which he confessed to using banned substances throughout his seven Tour de France wins. "I'd say I was both [a jerk and a humanitarian]," Armstrong, who was stripped of his medals after the U.S. Anti-Doping Agency accused him of cheating in 2012, told Winfrey. "And now we're seeing certainly more of the jerk part than the activist … I am flawed. Deeply flawed."
And, no doubt, fans have realized just that since the USADA filed their report against Armstrong in October. And the disgraced cyclist is well aware of the frustration that will likely be directed towards him by supporters who stood by Armstrong as he repeatedly denied using banned substances. "I see the anger in people," he told Winfrey. "There are people who supported me, believed in me, believed me, not just believed in me, but believed what I was saying, and they have every right to feel betrayed. And it's my fault. And I will spend the rest of my life — some people are gone forever, but I will spend the rest of my life trying to earn back trust and apologize to people for the rest of my life."
Starting with his apology on Winfrey's program. During the first part of the interview (see 28 of the athlete's most revealing quotes), Armstrong was contrite, appealing to fans and those who he's wronged with his doping denials with impressive frankness and regret. (Part 2 of the cyclist's interview will air Friday.) But, following his confession, do you still believe in Armstrong? Will the man that founded Live Strong still keep his strong fan base?
Tell us, following Armstrong's interview with Winfrey, do you forgive the formerly beloved athlete?
<a href="http://polldaddy.com/poll/6838812/">Do you forgive Lance Armstrong following his confession?</a>
[Image Credit: WENN]
More:
Lance Armstrong's Oprah Confession: 28 Revealing Quotes From the Interview
Lance Armstrong Confesses to Doping in Oprah Interview — Could He Face a Perjury Charge?
Oprah to Talk to Lance Armstrong. What Are Her 10 Most Awkward Interviews Ever?

The Cutest Celebrity Kids! (Celebuzz)