Lance Armstrong's Tour de France Wins Officially Erased from Record Books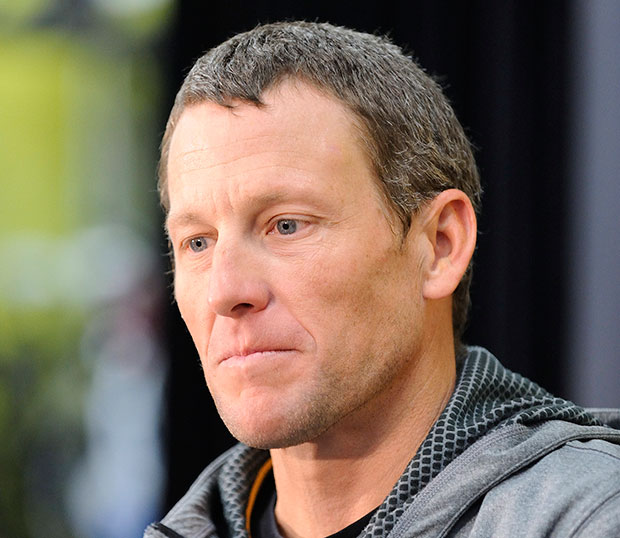 It's only Monday and it looks like Lance Armstrong can expect another terrible, horrible, no good, awful week. The International Cycling Union announced that it will not appeal the United States Anti-Doping Agency's decision to ban Armstrong for life from Olympic sports, thus formally stripping Armstrong of all seven of his Tour de France titles, the New York Times reports.
In losing his titles, Armstrong's name will be officially erased from the Tour de France organizer Amaury Sport Organization's record books. With Armstrong erased from history, however, the titles will not simply be handed down to the runners-up, as they too have been involved in doping scandals. Rather, the Tours Armstrong won will be declared winner-less.
Pat McQuaid, president of the cycling union, said in a news conference on Monday, "We've come too far in the fight against doping to go back to the past. Something like this must never happen again."
However, things aren't over for Armstrong quite yet. According to the Times, the World Anti-Doping Agency now has 21 days to decide whether they wish to repeal the ruling. Also, the International Olympic Committee is in the process of reviewing a case that will strip Armstrong of his 2000 Sydney Olympic games' bronze medal win.
The whole scandal's coup de grâce is that Armstrong may continue to be embroiled in a legal battle with the Dallas-based insurance company SCA Promotions over the bonus money they awarded Armstrong for his win. In 2005, Armstrong sued SCA Promotions for failing to pay him the bonus he believed he was owed. At the time, they reached a settlement agreement and SCA paid Armstrong $7.5 million. In the wake of Monday's announcement, however, the Times believes it likely that SCA will renew their legal action. With endorsement deals with Nike and Oakley out the window, and potentially his Tour de France winnings to follow, it's a bad time for Armstrong's bank account as well as his reputation as a cyclist. Forbes estimates that Armstrong's lifetime financial losses will exceed $150 million. And that's nothing to scoff at. 
Follow Abbey Stone on Twitter @abbeystone
[Photo Credit: Dominic Chan/Wenn]
More:
It's a Bad Day to be Lance Armstrong
Lance Armstrong's Scandal and Why We Can't Believe Anything Anymore
Lance Armstrong Will Be Stripped of His 7 Tour de France Titles
From Our Partners:

Pippa Middleton Acknowledges Her Famous Bottom in New Book: 'It's a Bit Startling to Achieve Global Recognition'
(Celebuzz)

LeAnn Rimes Sits Down With Katie Couric For First TV Interview Since Treatment For Cyber Bullying
(Celebuzz)