Larry Hagman, 'Dallas' Star, Dies at 81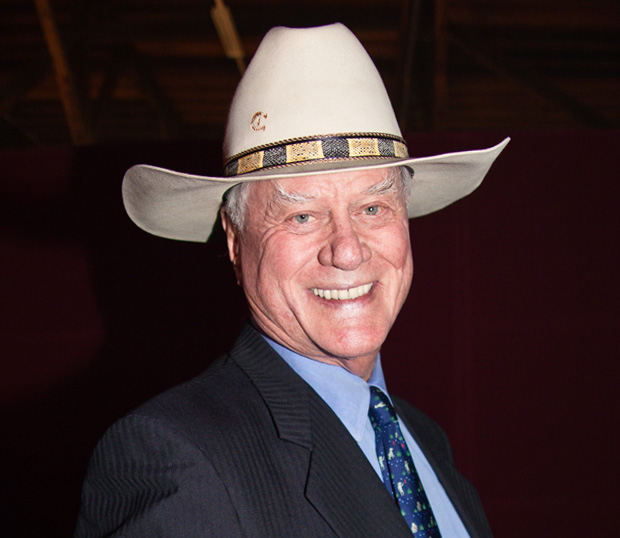 Larry Hagman, the actor who famously played J.R. Ewing in both the original Dallas and its TNT reboot, passed away at 81 at a Dallas area hospital Friday, sources told The Dallas Morning News. The actor, who was diagnosed with throat cancer in 2011, passed away of complications from cancer.
Said the actor's family in a written statement: "Larry was back in his beloved Dallas re-enacting the iconic role he loved most … Larry's family and close friends had joined him in Dallas for the Thanksgiving holiday. When he passed, he was surrounded by loved ones. It was a peaceful passing, just as he had wished for. The family requests privacy at this time."
Though Hagman boasted a career that spanned all genres, the actor was most renowned for his role as Dallas' J.R. Ewing, a character who became known as one of the most loved (and hated) villains in television history. The role — which spawned the famous "Who Shot J.R.?" storyline, written in response to Hagman's demand for a hefty Season 3 salary increase, which nearly led to his exit from the series — won Hagman several accolades: Not only did audiences respond to his role on the nighttime soap, but Hagman also picked up two Emmy and four Golden Globe nominations playing J.R. Ewing. (As Hagman wrote in his 2001 memoir, Hello Darlin', "Ronald Reagan was campaigning against Jimmy Carter, American hostages were being held in Iran, Polish shipyard workers were on strike, and all anyone wanted to know was, who shot J.R.?")
Turns out Hagman certainly was worth the pay raise. The actor headlined over 350 episodes, helping keep the series afloat for a whopping 14 seasons and seen by 350 million viewers worldwide. And J.R. Ewing was iconic enough to be revived decades later for TNT's 2012 Dallas reboot, on which Hagman starred despite his cancer struggle.
Of course, the actor — who, appropriately enough, began his career as a production assistant in Dallas — was respected for his work outside the Lone Star State. After first gaining traction as an actor on Broadway and Off-Broadway, Hagman landed the role of I Dream of Jeannie's Major Tony Nelson. Hagman's comedic chops helped turn the series into a hit — keeping up with predecessors like Bewitched — and the actor's chemistry with co-star Barbara Eden helped Major Nelson and Jeannie become an iconic TV duo. Though the TV series was a headache for 1960s feminists (Eden, as Jeannie, refused to call the man who summoned her anything other than "Master"), its camp nature won over several generations of audiences — two reunion specials (which, unfortunately for fans, didn't star Hagman) aired in 1985 and 1991.
After Jeannie wrapped, Hagman set his sights on film, appearing in movies like 1978's Superman and directing 1972's The Blob sequel, Beware the Blob. Hagman, however, had better luck on the big screen in the 1990s with roles in high-profile projects like Oliver Stone's Nixon and Primary Colors. In 2011, Hagman, who underwent a liver transplant in 1995 after years of drinking, returned to the small screen with a recurring role on Desperate Housewives, just months before the actor announced he had been diagnosed with throat cancer. Not that he let the diagnosis slow him down. Shortly after his announcement, Hagman revealed he would be returning to his iconic role on TNT's Dallas reboot. And the actor continued to keep J.R.'s legacy alive — Patrick Duffy told The Sun in August that Hagman was intending to return for Season 2 of Dallas.
As Hagman told The Daily Mirror this summer, "I'm ready to do another 13 years [on Dallas] … That's the plan. I don't want to retire. I'd like to die on stage, so to speak. I love acting and I've had a wonderful career."
[Image Credit: Eva Napp/Wenn]
More:
Barbara Eden Pays Tribute to Larry Hagman: 'Larry Was Always, Simply Larry'
Larry Hagman: Celebs Tweet Tributes to the Late 'Dallas' Star

Jennifer Lawrence Bikinis in Hawaii (PICS)

Best and Worst of the Thanksgiving Parade