Late Night Last Night: NeNe Leakes Announces Engagement to her Ex-Husband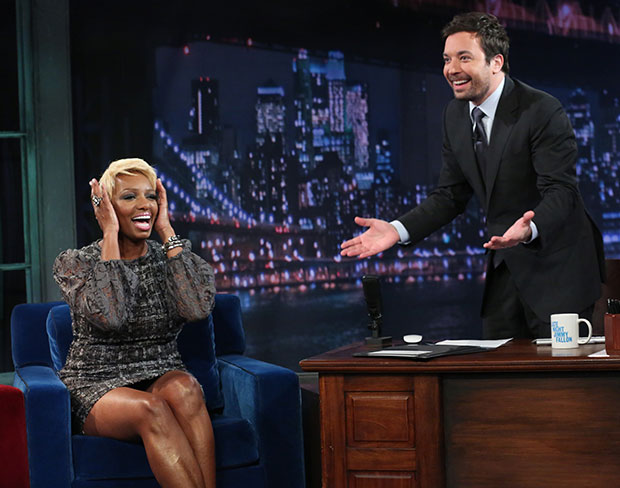 The Real Housewives of Atlanta star NeNe Leakes may always insist on her fans knowing that she is "richhhhh," but she's been much more hush hush when it comes to her love life. Over New Year's Eve, Leakes posted a bunch of cryptic romantic pictures on Twitter that included one a of a hallway covered in rose petals, a shot of champagne with the initials G and N, and a bed with a heart on it. The consecutive captions — "IT'S ON NOW! #2013," "My answer was," and "Yes," — left fans wondering if Leakes had gotten engaged to her ex-husband, Gregg Leakes. Leakes waited until Thursday night to confirm the exciting news on Late Night with Jimmy Fallon.
"A little after midnight, I was asked this beautiful question, 'Will you marry me again?'" Leakes told Fallon. She then re-enacted her enthusiastic answer, throwing her arms in the air to tell, "Yes!"  
Leakes tells Fallon she first met her ex-husband/husband-to-be in 1996, which (for those people who can do math) means they have known one another for 17 years. The first time around, Leakes and her husband were married for nearly 14 years before they divorced in 2011.
With her face on the cover of Ebony magazine, a role on the hit sitcom New Normal, and a wedding to plan, 2013 is shaping up to be pretty dang good for the former Housewife. 
Follow Lindsey on Twitter @LDiMat.
[Photo Credit: Lloyd Bishop/NBC]
More:
NeNe Leakes: Why 'The New Normal' Is Not Just 'The Gay Show'
NeNe Leakes to Launch Fashion Line: 10 Craziest 'Real Housewives' Ventures
TCA 2012: 'The New Normal' Gang Addresses Boycotts and NeNe Leakes

'Buckwild' Stars Talk 'Jersey Shore' Comparisons: 'I Ain't Paying For No Tan' (EXCLUSIVE VIDEO) (Celebuzz)

Oscars 2013: Best Picture Race Is Down to 'Lincoln' Versus 'Zero Dark Thirty' (Moviefone)