LeAnn Rimes Cries to Giuliana Rancic About 2009 Affair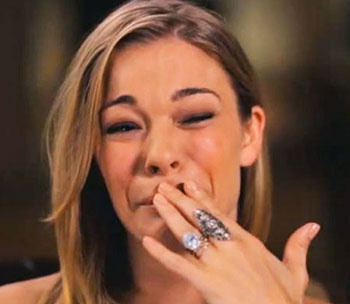 LeAnn Rimes still cries when she thinks about the affair she had with her now-husband, Eddie Cibrian, but that doesn't mean she feels remorse. "You can't break what's broken already," Rimes tells E! News of separating Cibrian from his ex-wife, Brandi Glanville, as well as hurting her own ex-husband, Dean Sheremet.
Rimes sat down with E! host Giuliana Rancic for a tear-filled tete-a-tete that aired on Sunday in which she opened up (again) about her 2009 affair.
"I never ever in my heart want to hurt anyone," Rimes tells Rancic. She was quick to absolve herself of blame, however, adding, "I don't think anything can separate anything that's super-connected. You might have had so many wonderful things with each other's spouses in your relationship, but something along the way broke that."
Rimes, it seems, can't bear to let arch-nemesis Brandi Glanville make headlines without her — her interview with E! comes hot on the heels of Glanville's announcement that she will be undergoing breast surgery to remove a non-cancerous tumor. Now that Glanville has decided to stop trashing Rimes on Twitter ( or so she says), the two have to get creative with their headline-grabbing war. 
Follow Abbey Stone on Twitter @abbeystone
[Photo Credit: E!]
More:
Brandi Glanville Quits LeAnn Rimes Twitter Feud Just As It Gets Annoying
Dear Bravo, It's Time to Make LeAnn Rimes a Real Housewife
Brandi Glanville Admits That She 'Wanted to Kill' LeAnn Rimes at Soccer Practice

Tom Cruise, Church of Scientology To Be Focus of Tell-All Documentary (EXCLUSIVE)

Kim Kardashians Best Bikini Moments (PHOTOS)