Lena Dunham Doesn't Want to Look Like a Victoria's Secret Model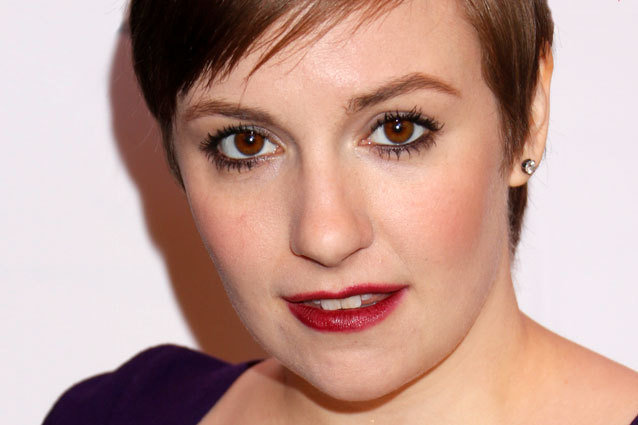 Lena Dunham basically wins the Playboy Q&A out this week — and knocks out every last body-snarking comment ever leveled against her — with an answer to a question about what she'd do if she woke up in the body of a Victoria's Secret model:
"I don't think I'd like it very much. There would be all kinds of weird challenges to deal with that I don't have to deal with now. I don't want to go through life wondering if people are talking to me because I have a big rack. Not being the babest person in the world creates a nice barrier. The people who talk to you are the people who are interested in you. It must be a big burden in some ways to look that way and be in public. That said, I probably would want to see if I could get free food at restaurants. Then I'd call a doctor and see if she could return me to my former situation."
RELATED: Lena Dunham Now Apologizing For Things She Didn't Do
So brilliant, and not the least bit defensive. Also: totally empathetic to Victoria's Secret models! It would be kind of annoying to just get through a day's errands or whatever if dudes were constantly falling all over you, and how would you ever know if anyone was listening to a damn thing you said? People do listen to what Lena Dunham says, as evidenced by this very interview.
Incidentally, she's on fire in every bit of this interview, starting with the gorgeous, mod photo of her.
A few other fantastic things she says:
"I never chalk up anything to the gender divide and say, 'Well, that's just a male thing.' I hate the conventional wisdom that men are supposedly complete pieces of s**t and it's our job as women to put up with them. Men are just as sensitive and easily victimized as women are, but there's not as much of an infrastructure for expressing it."
RELATED: Lena Dunham Looks Damn Sexy on 'Rolling Stone' Cover
"On Girls I like being a mouthpiece for the issues I think young females face today. It's always shocking when people question whether it's a feminist show. How could a show about women exploring women not be? Feminism isn't a dirty word. It's not like we're a deranged group who think women should take over the planet, raise our young on our own and eliminate men from the picture. Feminism is about women having all the rights that men have."
"If I could abolish one question, it would be 'Why are you naked on TV so much?' I don't know. Use your imagination."
All the Dunhamness and feminism is all the more amazing for the fact that it's in Playboy. I couldn't be happier that she's Lena Dunham, non-Victoria's Secret model.
Hollywood.com correspondent Jennifer Keishin Armstrong is the author of two forthcoming books, Sexy Feminism and Mary and Lou and Rhoda and Ted, a history of The Mary Tyler Moore Show. For more information visit  JenniferKArmstrong.com.
Follow Jennifer on Twitter @jmkarmstrong 
[Photo Credit: Todd Williamson/AP Photo]
---
You Might Also Like:


Topanga's Revealing Lingerie Shoot: Hello '90s!


Stars Who Have Lost Roles For Being Too Hot (Celebuzz)