Home
Celebrities
New Limp Bizkit Song with Lil Wayne Mocks Britney Spears, Hits On...
New Limp Bizkit Song with Lil Wayne Mocks Britney Spears, Hits On Jessica Biel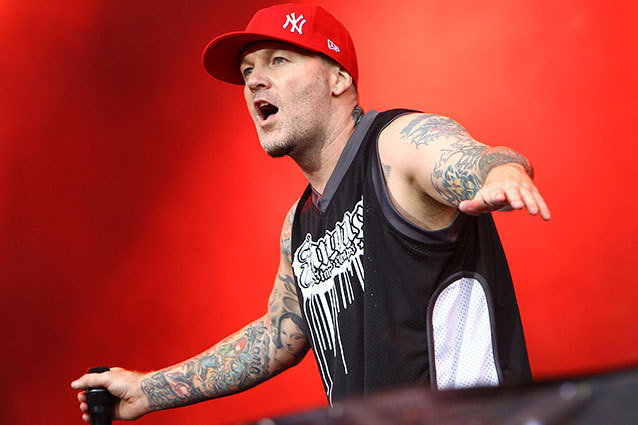 "Go f**k yourself!" That's how 42-year-old grown man Fred Durst has ceremoniously re-introduced himself to the music world with Limp Bizkit's new single "Ready to Go." For any fans worried that Durst and the reunited Limp Bizkit have gone a different route since their "Nookie" days, you needn't worry your red baseball capped heads: everything old is the same again. 
RELATED: Limp Bizkit: The Return of America's Most Hated Band 
In fact, without a vague Lady Gaga reference peppered in there, it would be hard to tell if "Ready to Go" were released ten years ago or if it really is the first single off of the band's upcoming album Stampede of the Disco Elephants. The M.O. of the six-minute-long (!!) song is awfully similar to Limp Bizkit songs of yore: the riffs, the lyrical poetry ("finger f**k the sky" is one of the gems here), and, of course, picking on Britney Spears. 
Durst goes after Spears and their well-documented tryst in the track ("I'm the one that had Britney droppin' to her knees," he brags), for some reason, despite the fact that that's hardly what people talk about when it comes to the X Factor judge these days. In fact, Durst seems to have it out for all of Justin Timberlake's ladies on the song, requesting that any females should "get at me if that ass is like Jessica Biel's." Residual angst about every time *NSYNC trumped Limp Bizkit on TRL? Perhaps. (Those rascals even tried to steal his spotlight today!) 
RELATED: 'Spring Breakers' Is a Metaphor for Britney Spears' Breakdown
Of course, the real headline-grabber here is that the tune features rapper Lil Wayne, who is currently recovering from a health scare and a TMZ-fueled death hoax. Although, if Weezy had taken a turn for the worst, at least he would have left us with the lasting words: "What the f**k is up? F**k the world, bust a nut." 
You can listen to the entire track below, which features the frontman bragging and repeatedly asking you, "Is that your bitch? 'Cause she told me she ready to go." You've been warned. 
RELATED: Is Britney Spears Faking It? Eve Says She Doesn't Sing On New Track 
[Photo credit: WENN]
---
You Might Also Like:


15 Oscar-Winning Nude Scenes


10 Insane 'Star Wars' Moments You Didn't Notice