Limp Bizkit: The Return of America's Most Hated Band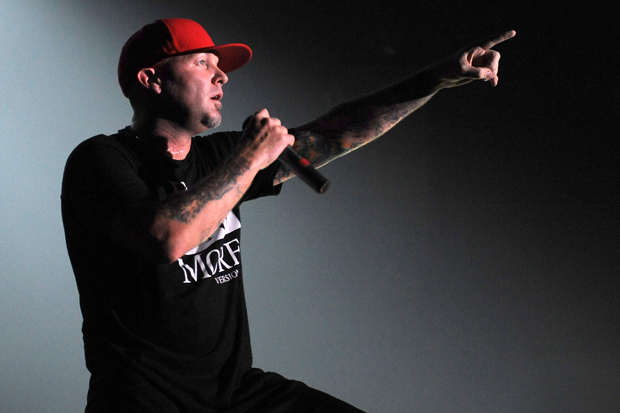 Every decade, there is a band so maligned that they capture the collective hatred of an entire generation. In the '90s, that band was Limp Bizkit.
In Spin's 2012 list of the 30 Most-Hated Bands, Limp Bizkit came in at No. 2, just behind Milli Vanilli, who didn't even sing their own songs. Today, there's still an "I Hate Limp Bizkit" Facebook page. And scads of fellow musicians have publicly bashed the band. Within a matter of years, they'd gone from selling out arenas to being the butt of the joke. 
But then, earlier this year came word that Limp Bizkit had signed with man-of-the-moment Lil' Wayne's record label Cash Money Records. Could America's Most Hated Band really stage a comeback? 
Well, if you take it from outspoken frontman Fred Durst, it really wouldn't be a comeback at all. Because they've always been there. We just weren't listening. In a new interview with Kerrang!, Durst explains that the band was simply "boycotting" America:
"We don't play back home. We've boycotted America for many years now. I don't know, I just don't wanna go out like that. We just don't know what's going on in America. It's all about the new catchy thing and that's always changing. America is driven by record sales. It's the home of corporations. We're just Limp Bizkit, so we don't know how to do anything but Limp Bizkit."
WHY'S EVERYONE HATE THEM, ANYWAY? Naturally, the musical landscape changed in the '90s and Nu Metal was simply not hot anymore. But it still doesn't explain why Limp Bizkit remains to be so hated while a band like Korn is not. So what gives? 
Blame it on personality, selling out and the divide between rock credibility and pop. 
During its time, Limp Bizkit was wildly popular: the band sold more than 35 million albums. And for better or worse, their frontman was ubiquitous. Durst was the precursor to John Mayer, the top-selling musician who became so blinded by fame and "the nookie" that his own personal spotlight began to eclipse the music.
And then he moved his mosh pit a little too close to the pop flame. 
During the 2000 MTV Video Music Awards, he performed the band's song "Livin' It Up" as a duet with Christina Aguilera. The spectacle prompted Filter frontman Richard Patrick to call Durst a "pop-lovin' piece of frozen dog s**t" and claimed that "Fred getting onstage with Christina Aguilera embarrassed us all."
Two years later, he claimed he was in a relationship with another pop princess, Britney Spears, which she completely, and humiliatingly, denied. And in 2005, a Fred Durst sex tape was leaked. Soon, instead of playing for cheering arenas, he was being heckled and crowds were chanting "F**k Fred Durst." And instead of being Rock God Fred Durst, he'd somehow become a two-headed hybrid of Vanilla Ice and Paris Hilton. 
But I'm going to say something unpopular here. Some of Limp Bizkit's music wasn't terrible. Their version of George Michael's "Faith" was pretty catchy at the time. And even though their Chocolate Starfish and the Hot Dog Flavored Water is quite possibly the worst-named album ever, it had some redeeming songs. 
So, the question still remains: Can Limp Bizkit realistically make a comeback? The guys can certainly give it a good try. But they'll have to milk their relationship with Lil' Wayne for all its worth and come out with a slightly more mature style (a page from the Eminem playbook). 
And someone please keep Fred Durst away from Selena Gomez. 
[Photo: Wenn]
Follow Michelle on Twitter @HWMichelleLee
More:
Adam Levine Loves AttentionGreen Day to Release a Trilogy of Albums