Lindsay Lohan Arrest Quiz: Guess Which Year These Headlines Were Written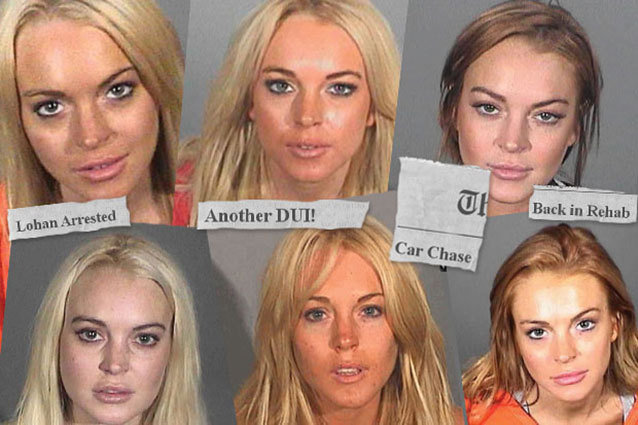 What are we going to do about Lindsay Lohan? What more can we do about Lindsay Lohan? It seems like just yesterday our freckled mess got herself her first cute little DUI and was taken to jail for a cute little mugshot. Everyone was so stunned that the precious child star was entering into the dark world of prescription drugs and trashy blonde hair dye from the box that headlines were screaming with disappointment and shock.
Sadly, this nearly-10-year hell ride shows no sign of slowing down and now we're tired. We're just about done. In fact, we have pretty much run out of headlines to portray just how big a s**tshow our chameleon-haired wreck is that we literally keep repeating ourselves. It's becoming harder and harder to determine when Lohan's first DUI began and her most recent rehab stint ended. But boy is it fun to try. See if you can guess which year these echoed headlines were written.
1. Lindsay Lohan Not in Rehab, Rehires Longtime Lawyer Shawn Holley, Reports Say
A) 2005
B) 2013
C) 2007
2. Lindsay Lohan: A History Of Rehab
A) 2009
B) 2013
C) 2010
3. Lindsay Lohan Leaves Rehab Facility, Which (Spoiler) Isn't Licensed to do Rehab
A) 2013
B) 2009
C) Future Headline
4. Lindsay Lohan Scores Rehab Victory — Maybe
A) 2010
B) 2006
C) 2013
5. Lohan Banned From Hotel For $46,000 Unpaid Bill
A) 2012
B) 2010
C) 2009
6. Lindsay Lohan Arrested on Suspicion of DUI, Cocaine Possession After Car Chase
A) 2007
B) 2013
C) Future Headline
7. Lindsay Lohan Released from L.A. Hospital
A) 2004
B) 2012 
C) 2008
8. Lindsay Lohan Sent Back to Rehab, Not Jail
A) 2012
B) 2013
C) 2010
9. Lindsay Lohan Arrested for DUI, Drugs
A) 2005
B) 2007
C) 2000
10. Strung Out Lindsay Lohan Drinks in Bed, Leaves Mess Behind
A) 2013
B) 2006
C) 2012
11. Lindsay Lohan Arrested While in Rehab, on Drugs
A) 2013
B) 2006
C) Future Headline
12. Lindsay Lohan Car Chase Case Settled, Dismissed
A) 2007
B) 2013
C) 2011
13. Lindsay Lohan: Portrait of the Party Girl as a Young Artist
A) 2006
B) 2009
C) 2013
14. Lindsay Lohan Arrested Again For DUI; Reportedly Checks Back Into Rehab
A) 2009
B) 2007
C) 2010
15. Lindsay Lohan Enters Rehab Center After False Start
A) 2013
B) 2009
C) 2007
16. Lindsay Lohan: A Timeline of All Her Arrests (and Boy, There Are a Lot of 'Em)
A) 2012
B) 2006
C) 2010
17. Lindsay Lohan Blasted for 'Heavy Partying'
A) 2013
B) 2010
C) 2006
18. Lindsay Lohan Arrested for DUI – Again
A) 2013
B) 2007
C) 2010
19. The Evolution of Lindsay Lohan
A) 2001
B) 2004
C) 2013
20. Lohan Arrested on DUI Charge After Crash
A) 2006
B) 2013
C) 2007
Answers
1. B; Fox News
2. C; MTV
3. A; CNN
4. C; TMZ
5. A; Huffington Post
6. A; Fox News
7. B; Hollywood.com
8. C; ABC News
9. B; ABC News
10. B; The Hollywood Gossip
11. C; HA
12. C; LA Times Blog
13. A; NY Times
14. B; MTV
15. A; Reuters
16. A; E! Online
17. C; People
18. B; People
19. B; USA Today
20. C; NBC, Today
More:
Lindsay Lohan, Your Hoodie Looks Like a Condom
Is Lindsay Lohan Joking About Being Pregnant?
Lohan Ruins Dress With Impromptu Tailoring
Follow Anna on Twitter @thebrandedgirl