Lindsay Lohan Didn't Go Clubbing After Her Court Appearance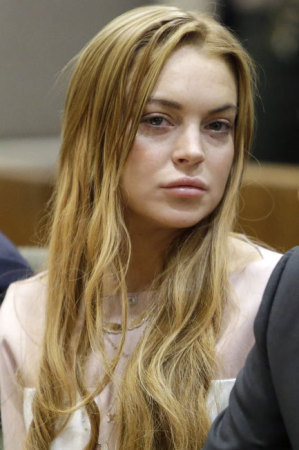 Lindsay Lohan isn't sorry for party rocking, y'all — since she actually didn't party last night following her court appearance after all. The star denied rumors that she hit up a Los Angeles night club on Monday after being sentenced to 90 days in rehab in her latest court hearing.
Despite reports that Lohan hid herself under a blanket in the back of an SUV as she tried to enter AV Nightclub in Hollywood (only to leave after being caught by photographers), the actress said on Twitter Tuesday afternoon that she didn't even leave her hotel room that night.
RELATED: Ranking the Appropriateness of Lindsay Lohan's Court Wear
Guys relax, that was NOT me at A/V or in the @mrpink SUV. I'm taking this seriously and focused on the road ahead.

— Lindsay Lohan (@lindsaylohan) March 19, 2013
What was she really doing? The answer is most definitely not as exciting as the rumors.
I stayed in last night, after a pretty long day…and ordered sushi to my hotel.

— Lindsay Lohan (@lindsaylohan) March 19, 2013
Lohan also thanked her fans for their kind words.
Don't believe EVERY little thing you hear, unless you hear it from me. The support I have gotten, has been great and means alot. <3 L

— Lindsay Lohan (@lindsaylohan) March 19, 2013
Follow Jean on Twitter @hijean
[Photo Credit: Reed Saxon/Pool/WENN]

---
You Might Also Like:


15 Oscar-Winning Nude Scenes


Young Jack Black Is Totally Unrecognizable