Lindsay Lohan's Court Sentence: Takes Plea, Could Serve Jail Time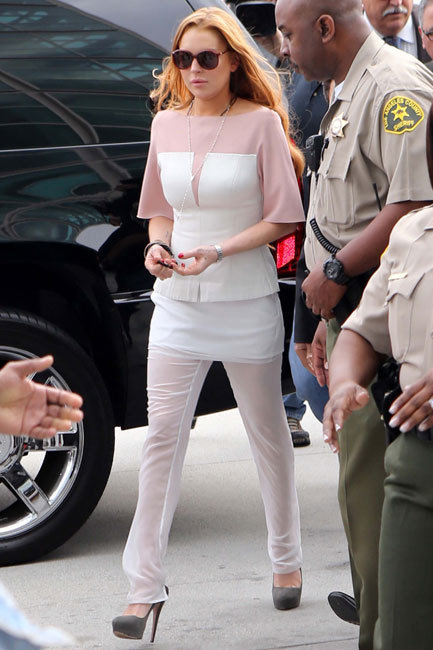 To date, Lindsay Lohan has managed to avoid jail time with the precision of a Paul Newman character. Monday might have broken the streak, however, as Lohan attended a hearing for her November 2012 arrest for crashing her car in Santa Monica and then lying to police about having been the party behind the wheel. Arriving to the Los Angeles courthouse nearly an hour past her scheduled time, Lohan accepted the court's bargain — pleading "no contest" to the charges against her — to withstand 90 days  in a rehabilitation program, followed by two consecutive jail sentences amounting to 185 days total.
RELATED: Lindsay Lohan Loses Her Lawsuit Against Pitbull
Additionally, Lohan will be placed on 24 months of probation as a result of her plea, and will be forced to participate in 30 days of community labor following her stint in the rehabilitation program. Lohan is presently undertaking a court-mandated 18-month psychiatric counseling. Lohan will also have to pay the following fines: $150 plus penalty assessments, a $240 restitution fine, a $20 criminal assessment fee, and a pending additional amount of restitution to the harmed party. Having plead guilty, Lohan will also have to submit herself for booking at the Santa Monica Police Dept. within seven days. 
Come May 2, Lohan will be forced to provide proof of enrollment in a rehabilitation program. As it stands, Lohan will have the opportunity to avoid or decrease her jail time if she complies with the stipulations of the decreed program and probation. Still, this is moreover the most severe sentence Lohan has yet to endure, despite her lengthy résumé of criminal activity.
RELATED: Could Lindsay Lohan's Latest Arrest Put Her Behind Bars?
Judge James Dabney spoke candidly with Lohan towards the end of her sentencing, offering a recommendation: "Don't drive. [You live] in New York, you don't need to drive." However, the judge specified that this was simply a word of advice, and not a term of Lohan's sentence. "Stay out of trouble," Judge Dabney advised. 
Follow Michael Arbeiter on Twitter @MichaelArbeter
[Photo Credit: Splash News]
---
You Might Also Like:


Topanga's Revealing Lingerie Shoot: Hello '90s!


Stars Who Have Lost Roles For Being Too Hot (Celebuzz)