Lindsay Lohan Throws Back to Modeling Days with Kirsten Dunst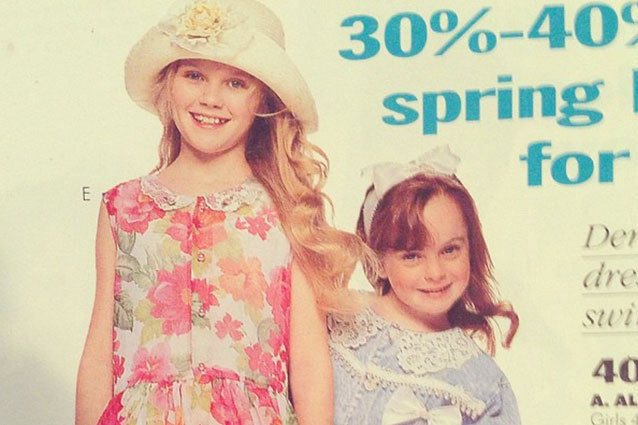 Instagram
Kirsten Dunst must have winced slightly yesterday when Lindsay Lohan posted this Throwback Thursday picture of them modeling for some sub-Laura Ashley kids' catalog in the early '90s. Not just because of the flower prints and denim, but because for two former child actors who went to rehab, Dunst and Lohan could not have more different adulthoods. They be one of the strangest, but they're not the first pair of celebrities to work together as kids but grow apart as adults.
Selena Gomez/Demi Lovato
Long before the Disney Channel, these two met on a casting call for Barney. Instant childhood friends, they grew up together, both starring in their own sitcoms. Nowadays, Gomez is friends with stars like Taylor Swift and has a long on again/off again relationship with Justin Bieber while Lovato is outspoken about the mental health issues she incurred in the Disney enviornment. While they're not the best friends they used to be, Gomez did express sympathy and pride for Lovato.
Leonardo DiCaprio/Sara Gilbert
Though Leo is famous for his league of pals, one former friend he's fallen out of touch with is Sara Gilbert, host of The Talk. DiCaprio actually guest-starred in an episode of Roseanne as one of Gilbert's classmates in 1991, just two years before his breakout role in What's Eating Gilbert Grape. The pair were friendly, but once Leo hit it big, it was just him and the boys.
Tom Welling/Ashton Kutcher
The two, like Dunst and Lohan, modeled together, showing off their collective abs for Abercrombie and Fitch. But only one short year later, Kutcher was cast in That 70's Show and the two fell out of touch.
Maya Rudolph/Gwyneth Paltrow
Paltrow's and Rudolph's families were old friends and they lived nearby one another, even attending the same school. In 2000, they reunited to work together in a family film, Duets. But since Rudolph's comedy career has taken off and Paltrow has rebranded herself as a lifestyle guru, the two have found their own circles of friends.
Everyone From the All-New Mickey Mouse Club
We all love at least one member of this cast. But whether they dated, fueded, or simply got the hell out of there and became an Oscar nominee, the Mouseketeers are no longer speaking. It's a shame. How can you not like Keri Russell?
More:
Finally, Bret Easton Ellis Reviews 'The Canyons'
Kirsten Dunst and Jason Sudeikis to Start 'Sleeping with Other People'
Oprah's Lindsay Lohan Interview: The Six Craziest Moments
---
From Our Partners:


A Complete History Of Twerking (1993-2013) (Vh1)


15 Stars Share Secrets of their Sex Lives (Celebuzz)