Lindsay Lohan, Get Your S**t Together Before Mentoring Young Girls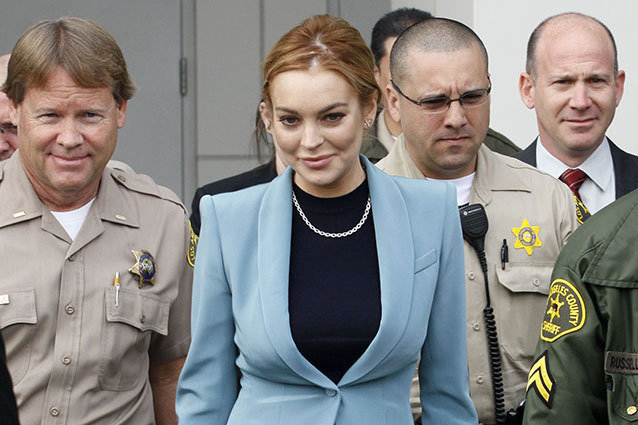 Somebody needs to sit Lindsay Lohan down and tell her a basic life truth: she should not (I repeat: NOT) ever try to be a role model. To anyone. Ever. Because homegirl clearly has a personal issue or two (or thirty) she needs to take care of before she starts doling out advice to other people. Lohan's irresponsibility is so plainly associated with her person, that it could practically be written in the constitution. We hold these truths to be self-evident, but clearly Lohan didn't get the memo. So let's just put it plainly: you are in no condition to be telling people how to live a life, girl. Not until you learn how to exist outside of the veritable smörgåsbord of poor life decisions you have become.
So color us shocked to read in Us Weekly that Lohan might be teaming up with a charitable foundation in order to help mentor young girls! You know, those wildly impressionable, easily misguided youths who will ultimately grow up to become our nation's future. Really? What, was Amanda Bynes not available?
RELATED: All The Insane Things Lindsay Lohan Did on The Canyons Set
According to Us Weekly, Lohan is currently in talks to spend time at Trinity Athletics, a gym that helps underprivileged girls in Johns Creek, Georgia. Her hope is to have the whole mentorship thing (because mentoring is totally like a one or two hour commitment, right?) go down before March 18 (the date of her hearing for three pending charges, including lying to the police), which: how convenient! Nothing about that smacks of divisive manipulation. No, there's no way this could all just be a show of smoke and mirrors to try and distract the judge into dismissing your charges, right? Lohan cares! About the future! And not just her own or something! Ugh.
But don't lose all hope for humanity quite yet, because according to Trinity Athletics' owner Cori Davenport, Lohan's involvement has yet to be confirmed. However, Davenport seems to be far more forgiving of Lohan's unending public foibles than the rest of us, as she "believe[s] everyone deserves a second chance, and everyone makes mistakes," and also "applaud[s] Ms. Lohan for wanting to make a difference in people's lives, especially young girls so they don't take the same road she has." Which, to be sure, would be commendable — if Lohan even had an ounce of self-awareness that wasn't clouded by her massive victim complex.
RELATED: Lindsay Lohan Loses Her Lawsuit Against Pitbull
Lohan's mistakes are exactly the point. They may be in her past(ish), but she hasn't learned from them yet — if the New York Times' piece about The Canyons proved anything at all, it's that. And to truly understand the depths of her own indescretions, Lohan needs to find someone she can trust to give her the real talk she so desperately needs. A life coach, a friend — maybe, (dare we say it!) someone who isn't on her payroll. You can deposit real talk in exchange for reality checks pretty easily these days. Find a mentor, don't become one, girl. That's the truly commendable thing to do here. 
In the end, not all press is good press — and sometimes even good press can backfire. So please, Lohan, we beg of you: get your ever-loving s**t together before you even so much as tHINK about trying to help others. Seriously.
[Photo Credit: Fame Flynet]
Follow Alicia On Twitter @Alicialutes
---
From Our Partners:


25 Most Scandalous Celeb Twitpics (Vh1)


33 Child Stars: Where Are They Now? (Celebuzz)