Lindsay Lohan's Choice of Rehab Center Is, Obviously, a Problem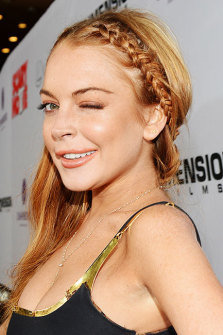 The dwindling population of Lindsay Lohan apologists was holding strong to this latest inception of the 26-year-old actress' rehabilitation program. Following a recent court appearance over an episode of reckless driving, Lohan was sentenced to undertake a stint in a locked rehab facility for a period of 90 days, which she kicked off on Thursday. Those sustaining faith in the reformation of the uninhibited Long Islander cheered: This is it! She's taking steps to better herself! Everything's comin' up Lohan!
But no. Turns out the rehab center into which she checked isn't exactly going over too well with the courts.
Yahoo! News reports that a prosecutor in the Lohan case has taken issue with the center in question — Morningside Recovery — claiming that it was not the Southern California facility upon which the legal teams agreed and that it has not been approved as a credible institution.
In response to the prosecution's allegations, Lohan's attorney Mark Jay Heller said (ever so poetically), "My client is ensconced in the bosom of that facility right now … She's in rehab right now. Nothing bad is going to happen," and urged Superior Court Judge James R. Dabney to approve of the facility.
While Dabney seemed to deem Morningside an acceptable rehabilitation program, he agreed to withhold a decision upon whether or not to transfer Lohan to a separate facility until Santa Monica Chief Deputy City Attorney Terry White has had time to investigate her present surroundings.
And so, even in her efforts to rid herself of substance problems and develop a clean legal record on top of a new reputation, Lohan stirs the pot. But hey, she's in rehab for alcohol, not bein' wacky!
Follow Michael Arbeiter on Twitter @MichaelArbeiter
More:
Lindsay Lohan Glorifies the Rehab Experience, But She Shouldn't
Lindsay Lohan's Court Outfits, Ranked By Appropriateness
Lindsay Lohan, Your Hoodie Looks Like a Condom
---
From Our Partners:


Beyonce Flaunts Bikini Bod for H&M (Celebuzz)


33 Child Stars: Where Are They Now? (Celebuzz)